Thursday, April 16th, 2009
Rural Celina setting for first novel
By William Kincaid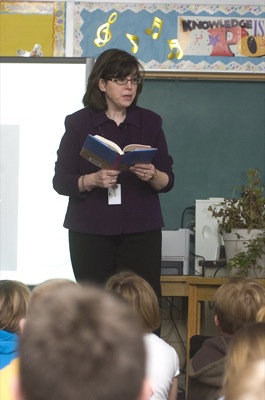 First-time author Michelle Houts says the view from her Celina country home usually includes cornfields, kids and assorted critters. That's the place where her characters are born.
Her book "The Beef Princess of Practical County" for teen readers was released this week by a division of Random House Children's Books.
In Houts' 240-page novel - which she describes as a grown-up "Charlotte's Web" - 12-year-old Libby Ryan raises two steer for the Practical County Fair. But leaving the animals, whom she names despite her father's advice, proves to be difficult.
"I think every kid starts to question why we do this," Houts said about raising, and ultimately slaughtering, cattle.
Libby even considers vegetarianism before later asserting that beef is a part of her life and family tradition.
"But I love raising cattle, showing cattle and I've decided that I can love my steers and still eat beef. Besides .. I don't think I could possibly leave this fair without consuming a single Cattlemen's burger," Ryan says in the novel.
The idea for Houts' story came from when her oldest daughter sold her first steer at an auction.
"It amazed me how much maturity those children have to develop," she said.
To create a plausible story with honest dialogue, Houts said she attentively listened to judges who critiqued steer at county fair competitions. And of course she could use her own life experiences, since farming has always been a part of her life.
In addition to living on a grain and livestock farm with her husband Mark and three children, many of Houts' family members were involved with agriculture, including her father, an agriculture professor.
"I really wanted to put out a book that put a positive image on animal agriculture in the U.S. today," she said.
Even though agriculture is responsible for feeding the world, it is not universally admired and negative connotations, even around the area, exist, Houts said.
Asked when she became a writer, Houts pointed back to a time in first grade when she wrote a retelling of "Jack and the Beanstalk," with which her teacher was impressed.
"That was huge," she said.
In June 2006, Houts sent her story to Random House, which accepts manuscripts from first-time novelists once a year, she said.
Houts received an e-mail from the company months later in December expressing interest and asking if she would consolidate the novel's two timelines together.
In April 2007, Random House officially made an offer to Houts, who then signed a 15-page contract. She was assigned an editor and made various changes to the manuscript. The book came out two years later.
So far, Houts said she has received positive reviews from such places as Booklist, Kirkus Reviews and School Library Journal.
"Those are the ones that matter for a kid's book," said Houts, who also is an elementary special education teacher at Celina and an adjunct faculty member at Wright State University-Lake Campus.
Houts had her first encounter with literary celebrities when she and other Random House first-time authors were invited to Denver and escorted by limo to the American Library Association 2009 Midwinter Meeting.
"It was pretty exciting. We were all so humble and grateful to be there," she said about the event where she spent hours talking to librarians and prospective book buyers.
While in Denver, Houts gave a reading to an elementary class at the Denver Public School. She said the city kids were interested in her story, especially the notions of four-wheelers and manure.
Houts believes many children - regardless of their awareness of farms - may find pleasure in "The Beef Princess of Practical County."
The novel is available at bookstores and online at Amazon. For more information on the book, visit www.michellehouts.com.