Tuesday, April 21st, 2009
Cavaliers score early, then late
By Gary R. Rasberry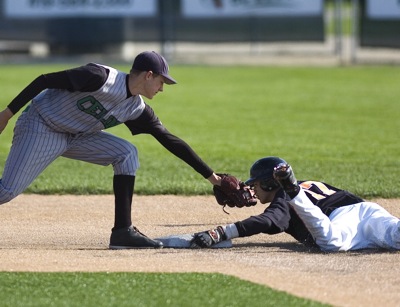 Coldwater had a bookend-kind of ballgame in its 86th meeting with Celina.
The Cavaliers jumped out early with five runs in the top of the first, then waited until the seventh to score four more to dispatch the Bulldogs 9-2 at Montgomery Field on Monday in Mercer County baseball action.
Coldwater, ranked third in the Division III coaches' poll, go to 11-1 on the season as Celina drops to 5-8 with the loss.
The Cavaliers went to work right away, putting the first four guys on base before Celina pitcher Caleb Shreves could get an out. Keith Wenning brought two runs in with a double and Adam Rammel plated two more with a long single to right, later scoring on a Colin Paynter single.
Shreves threw 33 pitches in the opening inning as 11 Cavaliers went to the plate, but for the next five innings, the junior clamped down on Coldwater, scattering two hits and retiring seven straight at one point.
"It's been the story of his last 2-3 outings," said Celina coach Drew Braun of Shreves. "In the first inning, he struggles. I don't know why. I wish I did know so we can get it out of his head. Coldwater hit the ball and he must have been making some nice pitches on the outside, because Coldwater's a good hitting team. They were well-disciplined and taking it to right field, just dropping it in. ... He put goose eggs the second through the sixth inning."
"We hit some balls hard. Shreves threw pretty well," said Coldwater coach Brian Harlamert.
Meanwhile, Coldwater starter Zach Siefring had Celina stymied. The Bulldogs did collect eight hits off Siefring, but could not string hits together to bring anyone in until the sixth, when Brian Brockly was hit by a pitch and Jeremy Kerr reached on an infield single, setting up Zach Gray's two-out triple to put Celina on the scoreboard. Siefring also benefited himself by starting two 1-6-3 double plays in the game to take Celina out of some innings.
"You look at Coldwater, they put up a five-spot in the first on (five) hits and an error. And we can't string any hits together," said Braun. "One inning, we have two hits (actually two, the fifth and sixth innings). The single and triple to get a couple of runs. We need to string a few of those together to be productive."
"Eighty-five pitches, very efficient," said Harlamert. "He fielded his position well on the double play balls. Celina's
(Continued from front page)

got a good hitting team, some pretty good swingers over there. Good how Z came out, being aggressive, pounding the zone. It's good for us."
Coldwater capped off the day with a four-run seventh as Shreves, reaching the 90-pitch mark finally began to tire. Tony Harlamert singled and Wenning walked after an out. Cory Pfeffenberger came on and walked Bill Geeslin, then hit Adam Rammel with a pitch to bring in Harlamert. Aaron Rammel followed with two-run single, followed by a Colin Paynter single to round out the scoring.
Chad Westgerdes went 2-for-3 with a run scored, while Painter was 2-for-3 with two RBI. Adam Rammel drove in three runs.
Jared Bader and Kerr each collected two hits on the day.
Both teams get back into league play this afternoon. Celina hosts Van Wert in an attempt for their third straight in WBL play while MAC leader Coldwater (3-0) hosts Fort Recovery.