Friday, April 24th, 2009
St. Henry rallies for win in sixth
By Mark Ruschau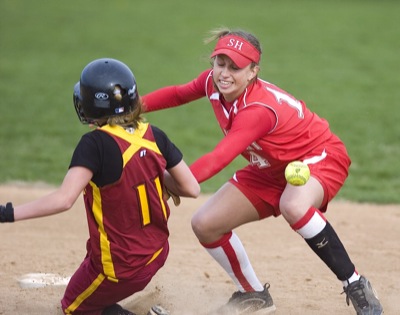 ST. HENRY - The St. Henry Redskin softball team used some late-inning magic Thursday afternoon to down the New Bremen Cardinals 2-0 in an early season classic in Midwest Athletic Conference play at the Wally Post Athletic Complex.
With the win, St. Henry improves to 7-1 overall and 2-0 in conference play. New Bremen falls to 1-1 in the MAC and 6-5 overall.
"This was a tremendous game and I told Craig after the game that it was a shame that it came down to a blooper hit but we will take it," said St. Henry coach Josh Link. "I think if you are just a fan watching this game that you have to enjoy what you saw, it was a great fundamentally played game."
"This was a well played softball game by both teams," said New Bremen coach Craig Griesdorn. "Both pitchers pitched well. Both teams put the ball in play. Both teams made the plays they had to make."
The Redskins scored the only runs of the game in the sixth inning. With one out, Kenzie Bruggeman walk to start a rally. Rachel Borgerding then reached on a fielder's choice when the throw from second baseman Emily Phlipot was off the mark. After Brittany Rutschlling moved up both runners with a sacrifice bunt, Michelle Stout reached out and blooped a two-run single into shallow rightfield, just out of the reach of Phlipot, first baseman Hannah Overman and rightfielder Morgan Russell.
"When it gets late in the game, you have to take chances and give yourself a chance to get something and fortunately we were able to get some thing," said Link.
"The worst thing that happened in our case was the fact that Stacy walked that batter," said coach Griesdorn. "Stacy pitched a hell of a game, we knew that one run was going to win and that is what happened. They did not hit the ball hard in the inning but they hit it where no one could get to it, was just one of those things."
The late St. Henry heroics were necessary as Stout and Timmerman locked up in a great softball pitching duel, complete with great defensive plays from their mates.
Stout allowed just four hits, striking out seven and walking just one while Timmerman allowed just four hits and two runs.
New Bremen had the better of the scoring chances as it got runners on base three times with less then two outs but were unable to dent the scoreboard. The Cardinals' best chance came in the sixth as Phlipot led off the inning with an infield hit off Stout. After Timmerman struck out, Michelle Griesdorn singled with Phlipot taking third. After Griesdorn stole second, Becca Dwenger hit a soft line drive right at the second base bag that was grabbed by Borgerding who stepped on the bag to double off Griesdorn.
"That double play was just one of those bang-bang plays," said coach Griesdorn. "Both runners were off on contact... the ball was hit, their second baseman made a great play, what can you do."
St. Henry had just one other scoring chance in the fifth, as Macy Miller reached on an infield hit and Shelley Post singled. Brittany Bayles then struck out and Miller was thrown out trying to steal third. The threat ended when Lyndie Hart flew out.
New Bremen returns to play today at Beekman Park on The Ohio State University campus against New Concord John Glenn in the Stellar Softball Classic with game time set for 7:15 p.m. St. Henry travels to Bellefontaine on Saturday for a pair of games with the first pitch scheduled for 11 a.m.