Friday, April 24th, 2009
Indiana residents die in area crash
By Shelley Grieshop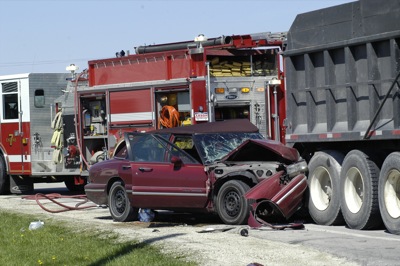 An Indiana woman and her father-in-law were killed when their car slammed into the rear of a dump truck at the intersection of state Routes 29 and 118 Thursday morning.
The driver of the car, Jacqueline Yoss, 57. of Ossian, Ind., and her passenger, Delbert Yoss, Geneva, Ind., were taken to Mercer County Community Hospital, Coldwater. Jacqueline Yoss was pronounced dead on arrival. Delbert Yoss was transported by helicopter to a Dayton hospital where he passed away a short time later.
The driver of the 2000 Mack dump truck, 54-year-old Michael Evers, 1267 Wendel Road, Fort Recovery, was not injured. The vehicle is owned by Overman Trucking, Fort Recovery.
The Mercer County Sheriff's Office received a 911 call reporting the crash at 11:06 a.m. The report said Evers was eastbound on state Route 29 and stopped for traffic to make a northbound turn when the truck was struck in the rear by Yoss' eastbound 1995 Buick Park Avenue.
The Yoss's were trapped in their car and had to be extracted by Celina firefighters using Jaws of Life equipment.
The crash is the fourth fatal accident in the county this year and marks the fourth and fifth loss of life on local roadways.