Friday, April 3rd, 2009
St. Marys third-graders get smart phones
By Janie Southard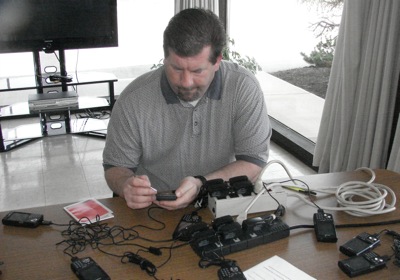 ST. MARYS - Any student, anytime, anywhere, that's mobile learning; and this school district is aiming in that direction. This morning it got a big boost from a national communication provider.
Verizon Wireless distributed 21 smart phones to third-graders at West School in what Kyle Menchhofer, district technology coordinator, calls a potential partnership. "We're negotiating ... I'm hoping we can become a pilot school," he says and adds Verizon's top district executives and others have spent time observing Jen Van Gundy's third-graders at West as the kids ply their skills on PDAs they received in October.
"If we're successful in establishing a relationship with Verizon, it will be a huge win/win. Obviously, we don't yet know what money will be involved and that's important because these are certainly tough times for the district and the community," he explains. For the two-month trial period, Verizon Wireless is providing a free Internet data package.
A smart phone is a combination PDA and a cell phone. A PDA (personal digital assistant) is a handheld computer originally designed as a personal organizer, i.e. date book, address book, task list and memo pad, according to an Internet site.
So far, there is no standard definition of a smart phone, but Menchhofer described the district's new devices as a PDA with Internet access plus a cell phone. The new smart phones in the school district will not include cell phone capabilities in that students may not call in or out. Verizon Wireless has assured the district that particular feature will be blocked.
One of the visitors to the district was Elliot Soloway, a University of Michigan professor who developed software for smart phones that lets them be more like personal computers. The professor was intrigued, Menchhofer recalls.
In an eSchool News article, Soloway says combining the functions of a PC with the Internet in an "ultra portable device, smart phones ... truly give students the ability to practice anytime, anywhere learning."
Lest parents worry about the combination that includes cell phones, Menchhofer emphasizes that Verizon Wireless has blocked calling capabilities and the Internet access to be used is filtered so that inappropriate sites will not be available. The filters run through the main receiver, which is located at the school. So the same rules apply at school, at home or anywhere else.
He predicts a lot of excitement from the kids when they get the smart phones (Samsung I 760), which they'll keep for the full two-month trial period. The PDAs they've been using will be passed on to other students.
Using the PDAs in the classroom is far from playtime. Once students finish their assignments they "sink it," which means they upload to the teacher's full-size computer where she grades and/or comments, then returns a copy to the student's PDA.
"This kind of technology levels the playing field and is the true definition of mobile learning ... Our initial project which began in October with the PDAs far exceeded our hopes. The kids were engaged in learning and once an assignment was finished pleaded with the teacher to do more," he says.

Free conference:
Kyle Menchhofer, technology coordinator for St. Marys City Schools has organized a free conference on how mobile technology affects learning. It will feature keynote speakers who have made their mark in mobile learning.
On May 6 from 8 a.m. to 4 p.m. at the UNOH Event Center, Elliot Soloway and Cathleen Norris, co-founders of GoKnow Learning and long-time advocates for improving learning through mobile technologies, will share their experience.
Liz Kolb, author of "Toy to Tool: Cell Phones in Learning" and a former Ohio teacher and currently a doctoral student at the University of Michigan, will also speak.
The St. Marys City Schools Handheld Learning Panel will share their positive outcomes with handheld technology.
The conference is designed for administrators, technology coordinators, and all K-12 educators.
Deadline for registration is April 24. Seating is limited. Register at www.smriders.net/tech-register.