Wednesday, May 6th, 2009
Redskins hand Cavs first MAC defeat
By Ryan Hines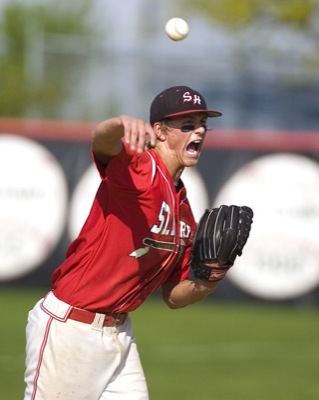 ST. HENRY - The Midwest Athletic Conference baseball race got a lot tighter thanks to an impressive performance by John Dorner's St. Henry Redskins on Tuesday.
St. Henry got a strong pitching performance by Nick Bruns and the Redskins ended Coldwater's 19-game winning streak with a 4-1 win at the Wally Post Athletic Complex.
Coldwater had a shot to clinch at least a share of the MAC title, but St. Henry's win leaves the Redskins (15-4, 4-1 MAC), Cavaliers (21-2, 6-1 MAC) and Parkway Panthers (8-9, 2-1 MAC) as the only teams in the MAC with just one league loss.
"The kids came to the ballpark in the right frame of mind," said Dorner, who saw an end to St. Henry's six-game losing streak to Coldwater. "They were intense and focused on what they had to do to win the game and then they went out and made it happen. I think this was a matchup of two of the best teams in Ohio and a matchup of two of the best pitchers in the state."
Coldwater head coach Brian Harlamert is confident that his Cavaliers can still win the MAC and is also optimistic that a rematch between the two Mercer County rivals could take place in the Division III tournament.
"The way that I see it, they won round one and I think that there's a good chance that we could meet again in the tournament, but round one went to them," said Harlamert. "I think that they needed to play a great game to beat Cory (Klenke) today and give them credit, they were able to do that.
"We still have two MAC games left and we're going to go out and try to still win the league," said Harlamert. "They (St. Henry) still have four games left to play, so a lot can still happen."
In a matchup featuring a pair of Division I college baseball signees on the mound, Bruns (signed with Bowling Green) got the best of Coldwater's Cory Klenke (signed with Miami, OH) holding the Cavaliers' potent offense to just one run on five hits.
"I think that Nick is as good as any pitcher in the area," said Dorner. "He had a lot of strikeouts going into today's game, but he had the frame of mind to make quality pitches and make them put the ball into play. He pitched smart out there and kept his pitch total under 90 for the game. He actually had to battle through cramps in the sixth and seventh innings, but he gutted it out and pitched a great game."
Klenke, who was 6-0 with a 0.00 ERA entering Tuesday's game, was touched up for four runs (three of which were earned) on six hits and the Cavaliers' righthander walked three while striking out nine.
Dorner acknowledged that getting off to a quick start would be a key against Klenke and the Cavaliers and the Redskins didn't disappoint their coach.
Bruns helped St. Henry get off to the quick start by reaching base on a two-out Coldwater error. Bruns stole second and went to third on a Neil Schwieterman single before scoring on a Klenke wild pitch.
St. Henry to its offense rolling again in the third inning with three runs on four hits. Jason Westgerdes made it 2-0 by singling to lead off the inning and then came home on an RBI double by Brad Kremer. It was the first earned run allowed this season by Klenke, but the Redskins weren't done scoring in the third inning.
Bruns then reached base on a fielder's choice with one out and scored on a Schwieterman singles when Coldwater made the second of three errors in the game. It took a great slide by Bruns to beat the Coldwater relay throw as he slid past the Cavaliers' catcher and reached out to slap the plate for a 3-0 St. Henry lead.
Jordan Post then gave the Redskins a 4-0 lead with an RBI infield single that scored Schwieterman.
The Redskins found success against Klenke with an aggressive approach while trying to go to the opposite field.
"Cory is a great pitcher and he has one of the best sliders in the area, so we tried to just go with the pitch because he likes to throw the slider to the outside half of the plate and we just took it to the opposite field," said Dorner.
Coldwater got its lone run in the sixth inning when Chad Westgerdes ripped a one-out double and then scored on an RBI single by Zach Siefring. The Cavaliers ended up bringing the tying run to the plate later in the inning, but Bruns wiggled out of the jam by striking out Klenke for the second time of the game and then getting Bill Geeslin to fly out.
"We had some opportunities to score a few more runs tonight, but things just didn't go our way," said Harlamert. "They made the most of their opportunities and we didn't."
Despite the loss, Coldwater is still the favorite to win the MAC crown as the Cavaliers have just two league games remaining while St. Henry will play MAC foes in four games during the next seven days.
"The main thing is that we gave ourselves a chance to go out and win the league and we will need a team effort with all of our guys to make it happen because of playing four league games in the next week," said Dorner. "Coldwater has only two league games left and I don't think that they will lose again, so we have to be playing our best baseball to get a share of the MAC title."