Monday, May 11th, 2009
Celina, St. Marys open postseason with victories
By Gary R. Rasberry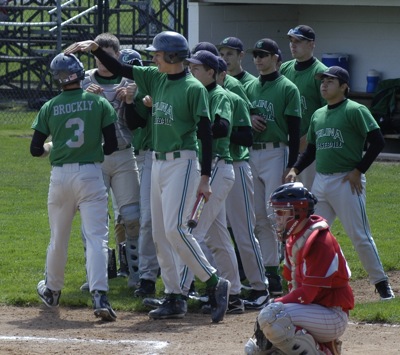 ELIDA - Celina and St. Marys took advantage of the wind blowing out of Ed Sandy Field in Elida as both teams won their Division II sectional openers on Saturday.
The Bulldogs concluded the tournament tripleheader by beating Van Wert 9-5 behind six strong innings on the mound from Darin Waterman and hot bats of Brian Brockly, Jeremy Kerr and Waterman.
The Bulldogs (13-10) advance to the sectional finals this Saturday at 2 p.m. in Elida against second-seeded Wapakoneta, which beat Kenton 7-3 in the middle game of the day.
The Roughriders also used the long ball and solid pitching, via a three-hitter from Trevor Kill, to dispatch the host Elida Bulldogs 7-2 in the opening game Saturday morning. St. Marys (7-9) will face top-seeded Shawnee in the first game this Saturday at 11 a.m.
Celina 9, Van Wert 5
It didn't take long for the Bulldogs to start chopping away at the Cougars. Kahl Knapke led off with a walk and stole second. Brockly followed by taking a 3-2 offering from Tyler Putnam over the leftfield fence for his sixth homer of the season to make it 2-0. Waterman followed with a single and scored later on an error to make it 3-0 after the first inning.
Celina kept adding runs, scoring twice in the second and one each in the fourth and fifth. Two more runs in the sixth, thanks to an RBI double from Kerr and an RBI single by Jared Bader, concluded Celina's 11-hit day.
"It's always nice to come out and get out on top early," said Celina coach Drew Braun. "Brian was able to get one up in the air with a wind-aided home run. We swung at the ball pretty decent."
Meanwhile, Waterman went to 2-3 on the mound this season by mowing down Cougars. Waterman allowed a run in the second and two runs, thanks to three Celina errors, in the sixth, but struck out seven and scattered five hits, all singles, in six innings of work on the hill.
"Had a little trouble early on locating his curveball, but once he figured out his curveball, he was able to throw real good. Darin always spots up good," said Braun. "He's got pretty good command of his pitches and he threw another nice ballgame."
Braun's only lament on the day was the late-game sloppiness of the Bulldogs on defense. In addition to the three miscues in the sixth, Celina allowed two unearned runs in the top of the seventh off reliever Kerr before finally getting the game finished.
"I don't think we played particularly good in the last couple innings," said Braun. "I was a little disappointed because we started making errors and gave them two runs in the sixth and (two more) in the seventh. If you're going to be successful in the tournament, you can't be giving any runs up."
Brockly added a double to his homer to go 2-for-3 with four runs scored and two RBI. Waterman, who entered the game batting .537, raised his average nine more points with a 3-for-4 game. Kerr went 3-for-3 with a trio of runs scored and trio of RBI.
St. Marys 7, Elida 2
One had the feeling that with the wind blowing out to left, that a home-run derby could be in play.
Turned out, it was, but only for the Roughriders, who hit a pair of long balls to down the host Bulldogs.
Elida actually started the hit parade. After Todd Kraft reached on a single to start the game, Brandon Good took an 0-2 one-out offering from Kill over the fence in left to make it 2-0.
That would be it, however, for Elida, as Kill allowed just one hit and one walk the rest of the way while striking out seven batters to get the win.
"Trevor's a senior and has been around the fence a few times," said St. Marys coach Denny Pfeffenberger. "He's just a competitor. He gave his best effort today."
St. Marys scored one in the bottom of the first to cut it to 2-1, but took control in the third. Mitch Newbauer led off the inning by taking Josh Bush's first pitch over the fence for a homer to tie the game. After Cody Martin walked, Sam Manning took the first pitch thrown over the plate for his first career home run to make it 4-2, chasing Bush after just one-plus inning.
"We've been down this week with the rain, so we moved back inside to work on our hitting a little," said Pfeffenberger. "The wind helped us a little bit. We got down on the ball, that's the important thing."
Manning had a career day for the Roughriders, going 3-for-3 and driving in three of the St. Marys runs.
"Sam's really come on as our DH (designated hitter)," said Pfeffenberger. "That's what you hope your DH does. That's why he's in there."
Adam Homan and Derek Roop each added two-hit games for the Roughriders.