Monday, May 11th, 2009
Pair of big innings lead Cavs to victory
By Gary R. Rasberry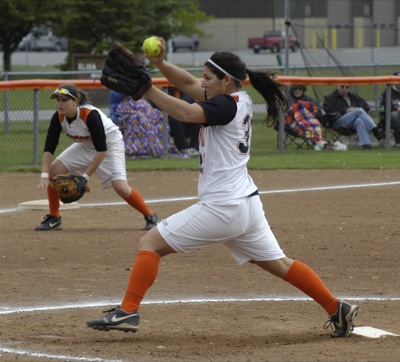 ELIDA - Coldwater nearly saw a four-run lead in the fifth evaporate, only to battle through and open its tournament play with a 10-7 win over Columbus Grove in the Division III sectional softball tournament at Dorothy Edwards Field in Elida on Saturday morning.
The win moves Coldwater (7-13) into the sectional final on Wednesday in Elida against top-seeded Wayne Trace, which earned the only bye in the five-team tournament.
After spotting the Bulldogs two runs in the first inning, the Cavaliers scored six times in the bottom of the second to take the lead.
"Today, we kind of put things together," said Coldwater coach Jeff Kerr. "Today was a good time to put things together."
Brooke Gillis cruised until the top of the fifth, when Grove scored three times on a couple of miscues by the Cavaliers' defense. Coldwater coach Jeff Kerr brought on Teresa Hess to pitch and she got a strikeout to end the inning.
"Teresa has been pitching well for us coming in relief for Brooke," said Kerr. "Brooke's been throwing good, but it's nice to know Teresa can come in, throw strikes and get the big hit when we need to."
Coldwater got insurance in the bottom of the sixth with four more runs to go up 10-5. The runs came in handy as Grove came back to score twice in the seventh, as Kerr had to call on Haley Stucke to close things out for the win on the hill for the Cavs.
"We told the girls all week long that last week's games were to get us ready for this game," said Kerr. "They were focused today. They came out and played hard and had some fun."
Ashley Waters had two hits for Coldwater, and Gillis tripled in two runs in the sixth to get Coldwater some cushion.

LINESCORE
Columbus Grove 200 030 2 - 7 4 3
Coldwater 060 004 X - 10 10 3
WP - Gillis.
LP - Greeley.
Sv - Stucke.
2B - CG: Langhals, Gerdeman.
3B - CG: Birkemeier. CW: Gillis.
Record: Coldwater 7-13.