Tuesday, May 12th, 2009
Bath gets three-hitter from Snyder in shutout
By Ryan Hines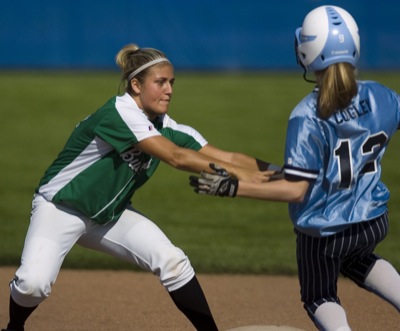 LIMA - After collecting 35 hits in the past two games, both wins, the bats went silent for the Celina softball team.
Bath's Shelby Snyder tossed a shutout against Celina for the second time in less than a week as the Wildkittens won 5-0 for a Division II sectional title on Monday.
Snyder held Celina (5-15) to just three hits and recorded 12 strikeouts as Bath improved to 20-2 on the season.
Last Tuesday, Snyder also threw a three-hitter against Celina as Bath won 3-0 in their annual Western Buckeye League matchup.
"We knew that we were going to have to come into this game hitting if we were going to be able to beat Bath on their home field," said Celina head coach Nicole Driggs. "Shelby (Snyder) did a great job of mixing up her changeup, her rise ball and did a good job of attacking the outside corner of the plate. She was really impressive and did the best job this year of shutting us down offensively."
Snyder's stellar performance is nothing new according to Bath head coach Laura Ford.
"She's done that all year for us and we have been riding her right arm a little bit," said Ford. "She and Stephanie Sanders (Bath's catcher) have been great out there for us and they were again today."
Celina's Christine Thobe matched Snyder pitch-for-pitch through the first three innings, but Bath broke the scoreless tie in the fourth inning.
Stephanie Sanders and Emily Mauk started the fourth inning with back-to-back singles and Emily Jordan loaded the bases for Bath with no outs when she reached base safely in a fielder's choice.
Snyder gave herself a 1-0 lead with an RBI single and Bath made it 2-0 after a Celina error allowed another run to score. Maddie Clark, Bath's eight-hole hitter, made it 4-0 on a two-run double.
"We were able to take advantage of a couple of their mistakes and got a couple of hits that produced a few runs for us," said Ford.
A Celina error, wild pitch and a Mackenzie Basham single provided Bath a 5-0 lead that was never threatened.
Audrey Harner, Samantha Bertke and Thobe accounted for Celina's trio of hits, all singles.
"You aren't going to win many games with just three hits," said Driggs. "Shelby did her job of shutting down our offense."