Wednesday, May 13th, 2009
A doggone good time
Park catering to canines opens in Celina near Grand Lake
By Janie Southard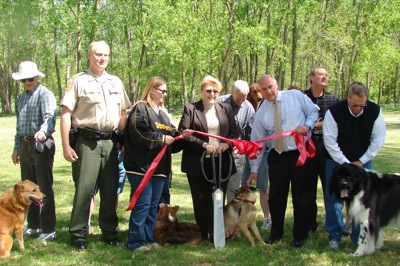 Big dogs. Little dogs. Black dogs. White dogs. Go, dogs, go to the new park by the lake.
Local dogs now have a 3.7-acre fenced area at the state park off West Bank Road to run, bark, chase each other or take a nap in the sun. Owners can wait outside the gate or walk around inside, it doesn't matter because this park is all about dogs.
Celina Rotary Dog Park was officially opened and dedicated Tuesday morning with a crowd of dog owners, some state park officials and a slew of dogs on hand for the ceremonies, emceed by current Celina Rotary President Deb Borns, who had the idea to create the park.
"I saw a dog park in Columbus and thought why couldn't we do that here? What we needed was a place and some funding," she told the audience of about 50 people who gathered for the dedication.
She called Craig Morton, manager of Grand Lake St. Marys State Park, and it happened that he was already thinking about creating a dog park but didn't have any volunteers to get the whole thing going. In fact, he already had the location in mind, he later told the audience.
Funding came from the Celina Rotary Club along with donations from businesses and individuals like Jeff Larmore, past Rotary president and Celina City Council member, whose 150-pound Newfoundland, Bentley, thoroughly enjoyed the new park on Tuesday.
Larmore shared a couple Bentley stories beginning at the beginning.
A few years ago when the Larmores went on vacation to Michigan, Jeff already knew he had prostate cancer although it had not been officially diagnosed. As he waited for his family outside a gift shop, he saw his first Newfoundland Landseer breed of dog.
"It was just great with kids, a big friendly dog ... After a while he came over, laid down in front of me and put his head of my leg. It seemed meant to be," he said as Bentley roamed around the dog park checking things out.
He then told his wife that if he "beat this cancer" he was going to get a Newfoundland like the one in Michigan.
(The Landseer is basically white with black patches while regular Newfoundlands are black. Both types are very social, protective and smart enough to act on their own if they sense danger, according to a Newfie Web site.)
Larmore's surgery and cancer treatments were successful and he made plans with a Michigan breeder to pick up a puppy.
"On the trip up there my wife asked how much the puppy was going to cost. I know she was expecting something around $200. Of course, that was way off. He was $1,500 because he is a Landseer. The blacks were $1,200," he said. A lot of money, but Bentley is a lot of dog, as many observers Tuesday morning noted.
A couple winters ago Bentley was out in his yard when a snowplow went by and dumped a bunch of snow, which scared the dog, who broke free of his chain and ran away with his collar and leash.
"It was six degrees outside and he was gone for three days. We were all so upset, drove around looking for him, ran ads in the paper, offered a reward ... Finally he turned up at Fanning Howey. We picked him up and he was just fine. His collar was intact so we knew someone had to have unhooked his leash. My guess is it was a farmer who found him tangled up and helped him out," Larmore said, ruffling his pony-sized dog hair as Bentley raced over to make sure Jeff was okay.
As it turned out the ladies at Fanning Howey who sheltered Bentley would not accept any reward. So in their honor Larmore donated $1,000 to the new dog park.
All dog owners can sympathize with Larmore's worry about what condition Bentley would be in if, in fact, he was ever found and then the ultimate euphoria of getting him back. Dogs can make a huge difference in their owners' lives, as anyone at the opening ceremony could attest.
Borns, in her remarks, listed some things she's learned from her four dogs: If you stare at someone for a very long time, you'll get what you want; don't leave home without identification; and, most important, if it's not wet and sloppy, it's not a real kiss.

If you go:
The Celina Rotary Dog Park is located at the state park off of West Bank Road. It is a 3.7-acre area enclosed in chain link fencing.
Dog areas are separated according to size. The large dog area is for animals over 20 pounds. Smaller dogs can keep to themselves in the small dog area.
Owners/handlers are expected to clean up after their dogs. Biodegradable bags are dispensed at the gate via a Dogipot Pet Station.
Park hours are the same as those of the state park, sunrise until 11 p.m. Dogs may not be dropped off at the park while its caretaker leaves the premises.

- Janie Southard