Wednesday, May 13th, 2009
Parkway rallies to win in ninth
By Mark Ruschau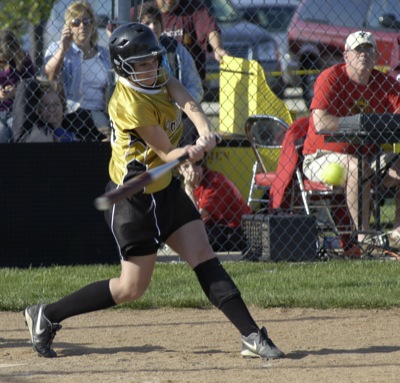 NEW BREMEN - The Parkway Panthers scored twice in the bottom of the ninth to snatch a 3-2 win in Division IV sectional finals action over the Marion Local Flyers on Tuesday afternoon at New Bremen High School.
With the win, Parkway improves to 13-4 and will advance to the district tournament next Tuesday afternoon at 5 p.m. at New Bremen against the winner of this afternoon's St. Henry-Fort Recovery contest. Marion Local bows out of the tournament at 14-10. The Panthers and Flyers are scheduled for a rematch in Midwest Athletic Conference play on Thursday at Maria Stein.
Trailing 2-1 entering the last of the ninth, Hannah Beougher started the game-winning rally with a solid single to center and Emily Crowell reached when she was hit by a pitch on 3-2 count. Megan Ketchum then laid down a bunt up the first-base line that was thrown away into leftfield by Flyer pitcher Jodi Otte, allowing Beougher to score to tie the game and Crowell to move to third and Ketchum to second.
With the open base, Marion Local coach Russell Puthoff elected to pitch around Katlyn Smith, issuing an intentional walk to load the bases. Lindsay Shellabarger then came up with the game-winning hit, a single to left through the drawn-in infield.
"I think I aged another 15 years today," said Parkway coach Mark Esselstein. "This game was a lot like our first sectional game last year where we got behind early, we began pressing at the plate then suddenly things happened and we got back in it and our confidence level got back up.
"In the ninth inning, Hannah Beougher, a senior, took a pitch right up the middle and then Emily got a hit in the head and then Megan put down the bunt, putting pressure on them and fortunately we were able to get the runs in," continued Esselstein. "I really feel good for Lindsay Shellabarger. The time before, I told her she was going to win the game for us, she was just one at-bat too late."
"We always tell our girls to try to get the lead runner, we tried to make the play, it just did not work," said Puthoff. "The girls put forth a great effort like they have all year and it just didn't work out, the ball went into rightfield and they scored a run, that tied it up."
Shellabarger's heroics were necessitated as Marion Local scored in the top of the ninth to break 1-1 tie. With one out, Amber Fleck singled. Kenzie Schwieterman then laid down a bunt up the first-base line that was thrown away by Smith, allowing Fleck to go to third. After Schwieterman moved up a base on defensive indifference, Andrea Mescher plated Fleck with a bounce out to second.
This game was a classic fastpitch contest, played close to the vest, with both teams given limited scoring chances by pitchers Otte and Crowell.
Crowell was masterful on the day as she allowed just five hits, one walk and two unearned runs over nine innings. Otte was solid as well as she allowed just seven and three runs over eight-plus innings, walking just three.
Marion scored the first run of the game in the top of the second inning when Gina Heitkamp singled, was sacrificed to second and scored when Andrea Mescher's soft line drive dropped in front of second baseman Chelsie O'Neill and went through her legs for an error.
That was to be the extent of the Marion Local offense until the ninth as it was limited to four baserunners after the second inning.
"You have to give credit to the team in the other dug out, their pitcher did a great job," said Puthoff. 'Mark (Parkway coach Esselstein) always has a nice team, once again he has them right there and you have to tip your hat to them for a job well done, especially on defense."
While the Flyers were able to get Crowell early, the Panthers struggled against Otte as they had just two baserunners through the first five innings. Parkway finally broke through to tie the game in the bottom of the sixth. Jamie Guggenbiller led off with a walk and scored on a double by Morgan Cron.
The Flyer defense short circuited a bigger Panther rally as Beougher lined out to short for the first out. Crowell then singled to center, but on the play Cron was thrown out at the plate on a nice throw by Andrea Mescher for the second out, and then Flyer catcher Kensey Schwieterman then fired to third base to knock off Crowell for the final out.