Wednesday, May 20th, 2009
Rural Montezuma woman is honored
By Betty Lawrence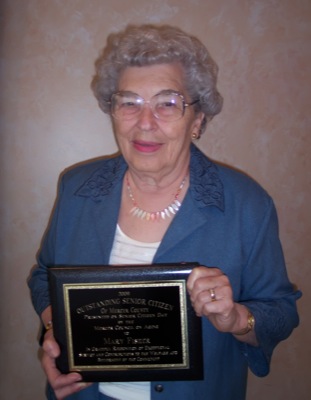 Mary Fisher, 81, of rural Montezuma was presented with the Mercer County Outstanding Senior Citizen award during Senior Citizens Day activities at Romer's at Westlake on Tuesday.
The annual award is given by the Mercer County Council on Aging, whose board members select the recipient.
Making the selection is very hard, says local Council on Aging Director Karen Howick.
"If we could select 10 a year, we still would have trouble. There's so many good seniors out there doing a lot of good things," she said.
Fisher says meeting new people through her many volunteer activities is the cog that keeps the wheel turning.
"Keeping busy keeps you from thinking about your aches and pains. You don't have time to dwell on them," she said Tuesday afternoon after accepting the award.
A native of Darke county, she graduated from Palestine High School in 1946. She was offered a job at the former Citizens Bank in Celina, retiring from the bank as its Summit Street branch manager in 1991 at the age of 63.
After her retirement, Fisher began volunteering at Mercer County Community Hospital in Coldwater. A member of the Community Hospital Volunteer Association, she still volunteers at the hospital, as well as at Briarwood Manor Nursing Home in Coldwater and at the Mercer County Council on Aging where she also serves as a board member. When there's a Red Cross bloodmobile in Coldwater, she also can be found helping there.
Her husband, Paul Fisher, is deceased, and she has one son, Ron, of St. Marys, and two grandchildren.
When she's not busy volunteering her services, Fisher loves to crochet and plies her skills at jigsaw and crossword puzzles.
"Just keep busy if you can, it makes you feel better," she advises.