Wednesday, May 20th, 2009
Wildkittens nip Roughriders in one-run win
By Gary R. Rasberry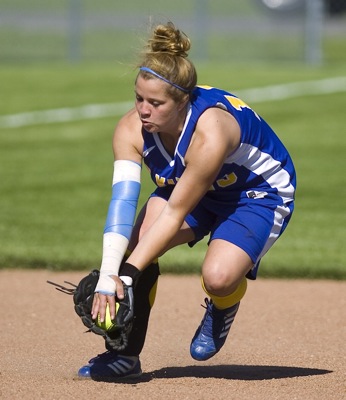 BATH TOWNSHIP - The anticipated matchup between Bath and St. Marys, featuring two strong pitchers, lived up to the hype.
The Roughriders drew first blood, but the cut the Wildkittens made was deep enough to plate two runs in the top of the fourth to eliminate the Roughriders 2-1 in the Division II district semifinals at Bath High School on Tuesday afternoon.
The Wildkittens (22-4) now head to Deshler on Thursday to face Defiance at 6 p.m. in the district title game after the Bulldogs beat Wauseon 4-3 in the other semifinal in Defiance. St. Marys, which will play Bath again on Friday in a Western Buckeye League matchup, drops to 18-6.
St. Marys pitcher Kayla Thornsberry and Bath hurler Shelby Snyder threw solid games, both allowing just four hits.
But Snyder got stronger after giving up two hits and a run in the top of the first. Sam Davenport led off with a single and went to second on Carrie Schlater's sacrifice bunt. After Bailey Smith struck out, Erika Thornsberry laced a single down the third-base line to bring home Davenport.
That, unfortunately, would be it for St. Marys scoring plays. Snyder, using a number of off-speed offerings struck out the side in the second and finished with 14 strikeouts in the game, including eight straight outs by punchouts from the third to the fifth.
"They came out real aggressive. The first five pitches, they swung at every one of them," said Bath coach Laura Ford. "We wanted to keep things off-speed and keep them off-balanced more. Thankfully, it worked out."
"The first couple innings, I thought we were aggressive at the plate," said St. Marys coach Sue Grothause. "I thought we did a nice job.
"Can't say enough about (Snyder). She kept us off-guard. She did a nice job of going high on us."
Thornsberry, whose junior season ended last year at the Bath diamond, was just as potent, scattering just two hits over the first three innings as St. Marys' defense came up with gems.
In the fourth, Bath manufactured its runs. Emily Jordan led off by getting a walk. Snyder stepped up and looped a double to right. Freshmen Mackenzie Basham and Marianne Deppe followed with back-to-back groundouts in the infield, allowing Jordan and courtesy-runner Amber Mosley to score to put the Wildkittens on top 2-1.
"We worked a lot on taking the ball to the right side," said Ford, a reference that both groundouts were toward second base. "We are so young (three freshmen and two sophomores in the starting lineup) that I think they're finally understanding these types of things. That was just huge."
From there, Thornsberry was nearly untouchable, allowing just one more single and walk while striking out four in the contest.
"You can't say enough for what she's done for us all season," said Grothause. "Who would have thought she'd come back and have the season she did. She's one kid we're going to miss with the other seniors too. ... I just wish we could have kept it going for her as well as the other seniors."
"You know what you'll get from Kayla," said Ford. "She's going to come after you. ... She's going to throw strikes, so we wanted to come back right after her."
The last best chance for St. Marys came in the sixth when Erika Thornsberry got her second single of the game with one out. Macy Ferrall stepped up and went for the bunt, but Basham, who had made two errors at third base earlier in the game, snagged the popped ball, then threw to a Maddie Clark at first to double up Erika Thornsberry to end the inning.
"That was huge with who they had up in the inning," said Ford. "... That was a big turning point because they were at 3-4-5 (in the batting order: Bailey Smith, Erika Thornsberry and Ferrall) to start that inning. Can't say enough about that (play), it was huge."
In the seventh, Kayla Thornsberry struck out and pinch-hitter Ashley King popped to first before Kendra Solomon struck out to end the game.
"Going into the game, I knew it was going to be a battle," said Grothause. "Laura does a great job over here. Our kids have nothing to hang their heads about. We played hard and gave 110 percent. We had people in scoring position a couple of times. We didn't put our hits together. ... You just can't say enough about what my seniors have done for this program."