Friday, May 22nd, 2009
Mapping out a crime-free vacation
By Shelley Grieshop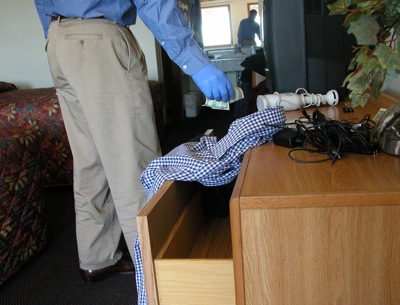 When packing sunscreen and road maps for this year's vacation, don't forget your safety sense.
Thousands of people each year become victims of crime at airports, hotels, on cruise ships, the beach or anywhere tourists are known to gather. Staying alert to what's going on around you is the key, says Gordon Self, a security expert.
"You have to listen to that gut-wrenching feeling inside that tells you something's just not right," says the Coldwater man.
Self, 52, has been in the private security business for 35 years. He has worked as a security officer, private investigator, personal bodyguard and in other related positions. He conducts training sessions and seminars on the subject for schools, communities, organizations and private and industrial businesses.
Abandoned by his father at age 3, Self was befriended by a police officer who often gave him rides in his cruiser. The influence led him to pursue his lifelong career, he says.
There's a host of things vacationers can do to avoid becoming a victim, he says. Hotel safety is perhaps the biggest issue, he adds.
"For a couple dollars you can buy these plastic door stops at the hardware store that will make it nearly impossible for anyone to enter your room, even if they have a key or card," he explains.
Self has a numerous tips for women traveling alone. At the seminars he gives, he tells them to wear a wedding band (cheap ones often can be found at flea markets), whether married or not, to give the impression a spouse may be nearby.
"Lay men's ties across the bed, turn on the bathroom shower and close the door when room service is coming," he says.
He also suggests standing in the doorway if hotel personnel enter the room to avoid being "trapped" inside.
Family travel has issues all its own. Self says parents should never let children out of their sight or dress them in clothing that reveals their name. He also says personal identification tags on luggage and bumper stickers and magnetic signs on vehicles "give strangers way too much information."
"A simple bumper sticker that says 'dog lovers' can be a conversation starter and break down your guard," he says.
It's also important to park your vehicle close to your hotel room - under a bright light and in view of security cameras, he advises. Keep your keys on the nightstand; if someone tries to break into your room or your car, hit the panic button to scare them away and alert others.
Muhammad Khokhor, the owner of Holiday Inn Express and America's Best Value Inn in Celina, has traveled extensively through the years. He believes it's best to rent a car so your license plate won't identify you as an out-of-towner.
Khokhor's own experience as a victim taught him not to buy the car rental insurance (most homeowner's insurance covers rental vehicles, he says) and to use his own GPS. The insurance he purchased didn't cover the GPS in his rental car, which was broken into in Los Angeles, he says.
"The insurance is usually worthless," he adds.
He also believes its best to completely empty your vehicle at the end of each day and keep it unlocked so thieves don't break the windows trying to enter.
How much cash to bring on vacation is debatable. Most experts instruct travelers to divide up large amounts and keep it in more than one place. Self advises keeping out only as much as you need each day and placing the rest in a hotel safe or locked in a suitcase in your car's trunk.
Khokhor disagrees.
"If there is a safe in your room, use it, but not the hotel safe. You never know who'll have access," he says. "Most thefts in hotels are inside jobs."
To protect your hotel room when you're away, both men suggest placing the "Do Not Disturb" sign out so hotel staff does not enter unless you are there. They also advise exiting through a back door when leaving, not the hotel lobby, so no one knows you're gone.
Before embarking on this summer's adventure, do some research, Self says. Use the Internet to get crime rates for a destination, he says. Take the investigation further by searching out news sites to see what type of crime is currently making headlines at the vacation spot, he adds.
When you arrive, be observant, Khokhor says.
"If you see bullet-proof glass on the windows of the gas station near your hotel, it's probably not a safe place to stay. Move on," he says.
Self admits all the warnings may make travelers a bit paranoid but staying alert could prevent your dream vacation from turning into a nightmare.
"When your gut talks to you, you have to listen," he says. I don't think you can be overly paranoid where it comes to safety."

Vacation tips:
• Pack light; don't take along any valuables or other items you simple don't need.
• Look for a hotel away from downtown, where there typically is more foot traffic and crime.
• Book a room on floors 3-5. Most break-ins occur on ground level floors through sliding doors, which are easily accessed by intruders and provide a quick get-away.
Floors above the fifth level also are be more dangerous in the event of a fire. Some fire truck ladders do not extend past a five-story level.
• Never leave valuables or cash in your hotel room when you leave.
• Protect your cell phone. Contact information and other data on such devices can be a wealth of information to a thief.
• Stay at a bed and breakfast if possible, instead of a hotel. The owners get to know you and are more apt to look out for you.
• Trust your senses. If you're not comfortable with your environment, if you feel someone staring or watching your every move, leave.
• Don't let your vehicle get low on gas to avoid being stranded. A quarter tank should be considered empty.
• Never go to an ATM alone.
• Contribute to your local Fraternal Order of Police. The vehicle sticker they give in return helps deter thieves.
Protect your home while away
• Turn on several lights; burglars recognize when the same light is kept on for days.
• Have a neighbor periodically park a car in your driveway.
• Leave your dog at home and have someone care for it daily. A barking canine is still the best way to prevent burglaries. A cheap "Beware of Dog" sign also does the job.
• Keep curtains closed.
• Stop your mail while you are away. It's a telltale sign that no one's home.
- Shelley Grieshop