Friday, May 22nd, 2009
Parkway reaches regional for second straight season
By Ryan Hines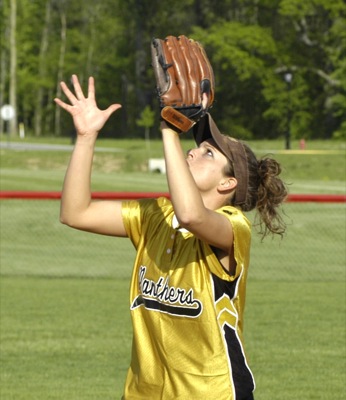 WAPAKONETA - The Parkway softball team isn't shy about expressing how they want the season to end.
They closed their postgame huddle with the team in unison saying "Akron, state champs."
After a 2-0 win over Lima Perry on Thursday at Wapakoneta for a Division IV district title, Parkway is one of 16 teams left with aspirations of reaching the D-IV state tournament in Akron and accomplishing its ultimate goal.
Parkway (16-5) now advances to the Huber Heights Regional at Wayne High School and will play on Wednesday at 5 p.m. against the winner of Twin Valley South and Southeastern.
The familiar recipe of strong pitching and great defense had landed Parkway at the regional level of the postseason for the second straight year.
Sophomore lefthanded hurler Emily Crowell twirled a one-hit shutout and the Panthers played flawless defense behind her with no errors. Crowell, who struck out 10 Perry batters, was quick to credit the defensive effort of her teammates.
"Our defense did a good job behind me whenever the ball was hit and they've been doing a good job defensively all season," said Crowell, who had just two balls leave the infield against Perry. "They cleaned up everything that was hit to them and got the outs."
Perry head coach Paul Patton knew his young squad, with just one senior, was in for a tough task against Parkway.
"It's hard to hold a good team down," said Patton of Parkway. "They're experienced and we're not that experienced. We've got a lot of sophomores, so we'll be back. They (Parkway) are a very good team and we knew that coming in."
Parkway proved that it was the stronger of the two teams, but Perry pitcher Megan Patton made it tough on the Panthers by recording 12 strikeouts.
The Panthers were hitless until the fourth inning when Hannah Beougher blooped a double down the leftfield line.
Parkway head coach Mark Esselstein then had a quick conversation with Crowell before the Panthers' three-hole hitter stepped to the plate.
Crowell, one of the more dangerous power hitters in the Grand Lake area, dragged a bunt to the right side of the Perry infield and she reached first base on a single while Beougher raced around third base and scored when Perry bobbled the Crowell bunt.
"I don't ask Emily to bunt very often, but she has good speed her bunt was perfect for the defense they were playing," said Esselstein. "That put some pressure on them and I'm sure that they weren't expecting that. We were able to get Beougher around to score and it's always a relief to get that first run.
"The right side of their infield wasn't charging balls that were hit to that side on the ground and I knew that we would have a shot at it, but once they bobbled the ball, Beougher has good wheels and there was no question that I was going to send her then," added Esselstein.
Parkway extended its lead to 2-0 with a run in the sixth inning. Morgan Cron led off with a single and moved to third base on a single by Crowell before Katlyn Smith brought her home with an RBI sacrifice fly to rightfield.
"Katlyn Smith had a great at-bat," said Esselstein. "With two strikes, we had been struggling with that all day to that point, but she hit the ball good to right to get the second run in. That's a kid coming up clutch for us in a big situation."
Perry never folded despite the two-run deficit and had the tying runs in scoring position with just one out in the seventh inning. However, Crowell struck out Perry's four- and five-hole hitters to end the game and preserve the shutout.