Monday, June 1st, 2009
She's making history personal
Minster girl to speak at national competition
By Margie Wuebker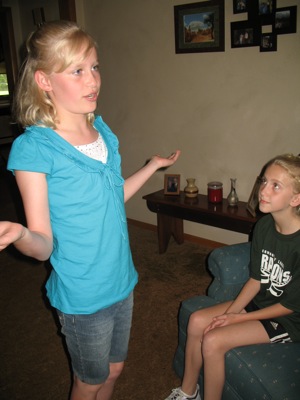 MINSTER - Amanda Lehmkuhl practices her award-winning speech in the living room for an audience of one - younger sister Rebecca.
She knows each word and each gesture by heart, speaking from the heart about her grandfather, Robert Louis Lehmkuhl, a Minster-area veteran who served as a tank commander in Japan during World War II.
Lehmkuhl, who recently completed the fifth grade at Minster Elementary School, will be heading to Reno, Nev., in July to compete in the national God, Flag and Country speech contest sponsored by the Fraternal Order of Eagles.
"I wasn't going to participate in the contest at first," the 11-year-old admits with a smile. "And then the more I thought about it, the more I thought it would be neat to honor veterans like my grandpa."
Robert Lehmkuhl traveled to Washington, D.C., aboard an Honor Flight program to visit the World War II Memorial. The emotional experience along with a touching tribute from a child he didn't even know became the first paragraph of her speech:
"Close your eyes for a moment and imagine the beat of a drum. Imagine a band playing, people cheering and a huge celebration. Imagine the gentle touch of a little girl's hand, the sweet smell of flowers and her soft voice as she says thank you to an American veteran. Can you see the tears in that veteran's eyes as he describes this glorious day? A day of honor. A day that every American soldier has yearned for, but unfortunately few have ever received."
The young girl says talking about her grandpa is her favorite part of the speech.
"We honor God and we honor our country, but how often do we honor the American soldier? We remember them in times of war and sometimes during parades or special holidays," she says.
School media specialist Becky Roetgerman offered helpful pointers ranging from splitting paragraphs for emphasis to adding appropriate gestures. Lehmkuhl admits with a smile that numerous revisions preceded the final draft, which she presented to classmates and teachers. She also gave it over the public address system as well as at a board of education meeting.
"I was really nervous the first time until I looked out in the audience and saw my grandpa," she says. "It helps to look up and see family members in the crowd. I think they know the speech almost as well as I do."
Progressing from local and district to zone and state, she also received assistance from Principal Brenda Boeke and fifth-grade teachers Phyllis Kremer, Kelly Hess and Kelly Wiss. They made sure each new accomplishment was included in morning announcements.
Lehmkuhl, the daughter of Karen Lehmkuhl and Bill Lehmkuhl, picked up a $300 cash award and a $2,000 college scholarship at the state level. She also earned the right to advance to national competition.
Minster students have fared well in state competition. Jeff Thobe placed second in the 12-13 age group while Maria Thieman Schwieterman won in 1985. However, there was no national contest at that time.
The latest challenger, who enjoys sports, 4-H, Girl Scouts, crocheting and being a member of the local swim team, has no plans to pursue a career in public speaking. She is currently considering a career as an orthodontist or an eye doctor.
"It's not about the competition or the prizes," she says of the speech contest. "It's about having fun and focusing attention on veterans. Without them, we would not live in a country where we can speak our minds, worship, learn, work, vote and pursue happiness. So make every day a day of honor for the American veteran ... simply say thank you."