Monday, June 1st, 2009
Parkway falls one win shy of trip to final four
By Ryan Hines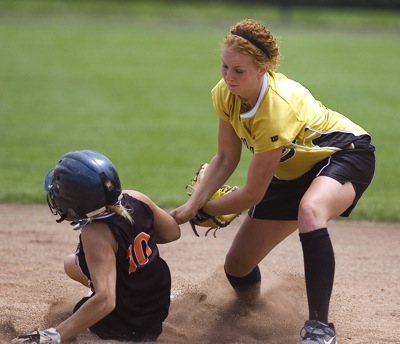 HUBER HEIGHTS - A historic win for Ansonia ended a magical tournament run for the Parkway Panthers' softball team.
Ansonia made the state final four for the first time in school history as the Tigers defeated Parkway 3-0 in the Division IV regional championship game on Saturday at Wayne High School in Huber Heights.
Not only is it the first state tourney appearance for the Tigers' softball team, but it is also the first time that an Ansonia (25-8) team of any kind has reached the state tournament.
"This is fun for everyone in our community with it being the first time that we've had a team get to state," said Ansonia head coach Floyd Jenkins. "The girls have worked really hard to get to this point and the whole community is proud of what the girls have accomplished so far."
Parkway (17-6) ends its postseason run in the regional finals for the second consecutive year after striving for a return to the state tournament for the third time in school history.
"This is the second straight year that we've lost in the regional finals and the further you go in the tournament, the tougher it is when you finally lose," said Parkway head coach Mark Esselstein. "We've had a great run this year with too many great moments to speak of. We were looking at elimination in the first tournament game (against Marion Local) and fought to get to this point and it's something that our whole team should be proud of. We won the MAC and to finish in the elite eight is hard to do. I know it hurts for them now, but there are a lot of teams that would love to switch spots with us and be in our shoes."
The Panthers found themselves in a hole before they knew what hit them as Ansonia scored a pair of unearned runs in the first inning.
Staci Schmidt led off the game with a single up the middle and then was safe at second base when Parkway's Emily Crowell fielded a bunt by Leann Kelly and threw the ball into left-centerfield trying to catch the lead runner.
Crowell got two outs before Kylie Knick delivered the big blow of the inning, a two-run double down the right-field line that was inches from being a foul ball.
"It was a big hit to give us a lead and it's something (scoring in the first inning) that we have done in every tournament game this year," said Jenkins. "I think that the early runs really calmed us down and we were able to settle into playing our game. It was a hit that wasn't fair by much, but we'll take it. It had about four inches to spare."
"Softball is a game of inches sometimes. They got a big hit in the first inning for a 2-0 lead that was just inches from being a foul ball," said Esselstein. "When you get big two-out hits, it really helps. If they don't get those two runs right away in the first inning, maybe it would be a different game, but who knows. It's tough to play catch-up right away like we had to."
That was all the offense that Ansonia needed with Brittany Mayo on the mound. Mayo improved to 22-6 this season by tossing a three-hit shutout with eight strikeouts and no walks.
"She (Mayo) kept us off-balanced and didn't hurt herself with any walks. We had some good swings on her but we weren't able to put anything together," said Esselstein.
Parkway was only able to get a runner to second base one time in the game when pinch-hitter Brittany Bollenbacher smashed a lead-off double over the leftfielder's head in the sixth inning. Mayo then got a strikeout and a pair of pop outs in the infield to get out of the jam.
Ansonia added an insurance run in the seventh inning when pinch-hitter Olivia McEldowney drew a two-out walk and was replaced on the basepaths by Kendra Reier, who stole second base and later scored on an RBI single from Schmidt.
Megan Ketchum gave Parkway its third baserunner of the game in the bottom of the seventh inning with a one-out single, but the rally ended there as Ansonia won by shutout.