Wednesday, June 17th, 2009
Redskins, Flyers split doubleheader
By Gary R. Rasberry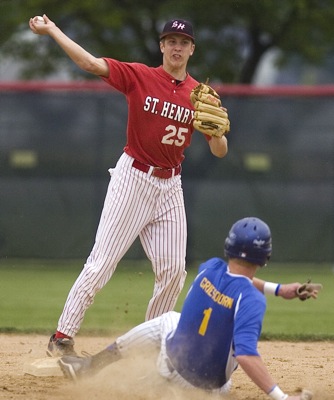 ST. HENRY - Marion Local and St. Henry split a Mercer County ACME circuit doubleheader on Tuesday night at a rainy Wally Post Athletic Complex.
In game one, the Redskins scored five times in the fourth and twice in the fifth, but needed a big pick-off play at the end of the game to hold off Marion Local, 8-7.
In the nightcap, Flyer Jarren Griesdorn went the distance and held off a late Redskins rally to come away with the 5-4 win and earn the split.
The Flyers are now 7-3 on the season as the Redskins move to 7-6.
"What more can you ask for? It's Marion and St. Henry. Huge rivalry. Doesn't matter which sport," said Flyers coach Kevin Knapke. "You're always going to expect a hard-nosed game."
Game one
Flyers starter Ryan Mescher and Redskins starter Craig Lefeld started off strong, but the scoring got rolling in the third inning as Marion took advantage of Lefeld hitting two batters and walking another one the way to four runs on just two hits to go up 4-0 early.
The Redskins responded with five runs off Mescher in the bottom of the fourth with the help of five straight hits, including a double by Tyler Bruns. St. Henry scored twice more in the fifth off Flyer errors and added its eighth run in the sixth.
The last run proved to be important. Lefeld pitched the first six innings and turned things over to Tyler Bruns in the top of the seventh, but Bruns gave up a single to Tucker Smith and walked Griesdorn, Travis WInner and Mescher to bring in Smith which cut the St. Henry lead to 8-6. Brady Kremer came on and quickly struck out A.J. Homan for the first out. Josh Berning then grounded to short, where the only out was at second, allowing Griesdorn to score, making it a one-run game. With Lee Pierron at the plate, Kremer caught Berning leaning at first base and picked him off to end the game.
"Defensively, I thought we played a solid game," said St. Henry coach Todd Franck, whose team did not commit an error in the first game. "It helped us at the end of the ballgame. We made them earn their runs."
"We left a lot of guys on base in that first game," said Knapke. "We had like five errors (officially, three). It was a rough (fourth) inning. We were going along good that first game and (St. Henry) had that big inning. That kind of took the wind out of our sails."
Jason Westgerdes, Kremer and Kurt Koesters each had two hits for the Redskins. Griesdorn went 3-for-3 and scored three runs for the Flyers.
Game Two
A three-run fourth helped spark the Flyers in breaking a 2-all tie. Griesdorn helped his own cause with a two-run double to score Greg Wolters and Tucker Smith, with Griesdorn coming home on a Winner single to make it 5-2.
Griesdorn cruised through the first six innings, allowing two runs early and striking out five without issuing a walk.
In the seventh, St. Henry worked its way back into the game. Tyler Bruns reached on a one-out error and Jordan Post was hit by a pitch. After Kurt Koesters grounded out, Brad Heitkamp singled in both runs to cut it to 5-4, but Griesdorn recovered quickly, getting pinch-hitter Ben Bruns to strikeout.
"He's a battler," said Knapke of Griesdorn. "He's one of those kids who wants the ball in his hands.
"We had him right at 100 pitches. We have a couple games coming up and we asked him to do a lot. Normally we wouldn't do that, but that's the way it is."
"I'm glad we gave ourselves an opportunity to tie things up at the end of the ballgame," said Franck. "Unfortunately, we weren't able to do it. A couple errors early put us in the position we were in."
Winner finished 3-for-4 with two RBI for the Flyers. Tyler Bruns went 3-for-4 with Heitkamp and Post each collecting two hits.
"Two one-run games. What more can you ask for?" said Knapke.