Thursday, June 25th, 2009
Mercer County library director: Disaster looming
State proposed budget cut could have major impact locally
By Daily Standard Staff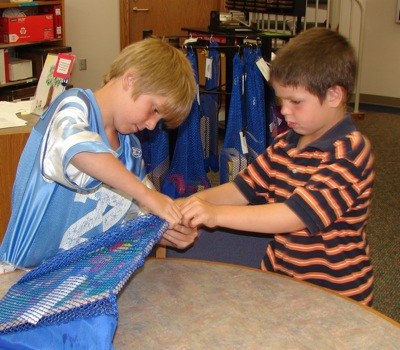 By William Kincaid and Janie Southard
newsroom@dailystandard.com
Governor Ted Stickland's latest proposed funding cuts would drastically hurt the state's 251 library systems, including those in Auglaize and Mercer Counties, say local librarians.
The library systems in both counties are already working on reduced revenue compared to last year, they report. The proposal would cut close to 50 percent of library funding.
"If they don't change their minds in the next 10 days, we're looking at a disaster for libraries in the state of Ohio," Austin Schneider, director of the Mercer County Library, said on Tuesday.
Susan Heckler Pittman, executive director at St. Marys Community Public Library agreed. "We (patrons) must act now to contact our state representatives. These are hard times for libraries and we have to stop this madness," she said, adding the proposal to make the deeper cuts came "out of the blue."
Strickland announced $2.4 billion in proposed spending cuts late Friday, including the proposed $112 million cut to Ohio's 251 library systems, two-thirds of which rely solely on state funds.
One third of the library systems get some funding support from a local voter approved tax levy.
Ohio is facing a $3.2 billion budget deficit amid declining tax revenues, the governor's office has reported.
Asked his reaction to the announcement of the proposed funding cuts to libraries, Schneider said, "I guess ( it was) kind of a state of shock."
Part of his response was based on the last-minute nature of the cuts, he added.
According to information from Schneider, Ohio public libraries are funded primarily through the Public Library Fund (PLF), which receives 2.2 percent of the state's tax revenue.
In St. Marys, the library is 96 percent funded by PLF. The other 4 percent comes from fines, fees and donations.
"Our patrons have been so good helping us out ... But we're having to look at a levy if this goes through," she commented adding the whole proposal seems excessive.
Pittman pointed out the proposal calls for a 47 percent reduction in funding in 2010; however, the state's general revenue is expected to fall 18 percent. In 2011, the reduction asked is 45 percent and general revenue is expected to lose 16 percent. "It doesn't make sense," she said.
Bob Maurer, treasurer for both St. Marys and Rockford libraries, said the only reductions possible at both libraries are cuts in staff, salaries and benefits. "Everything else has already been cut to the bone," he said.
The cuts would mean $45,000 a year in Rockford workers' salaries and benefits. In St. Marys the cuts would equal $175,000, according to Maurer.
Likewise, Mercer County Library - already operating on a 20 percent decrease in funds from last year as have other Ohio libraries - has already cut hours and staff time. The library now opens at 10 a.m. each day and is only open for three hours on Saturday, Schneider said.
"I guess that would get even more serious," Schneider said about staff and hour reductions if the cuts are enacted, adding that fall hours would also be curtailed severely.
Asked if the library's three branches in Marion, Mendon and St. Henry could face closure, Schneider said he just doesn't know, explaining that such a decision would have to be made by the library board.
"I think libraries should do their fair share, but I think this is unbalanced," he said about the proposed cuts.
Since Memorial Day, The Coldwater Public Library is no longer open on Thursdays and has reduced staff hours because of already reduced revenue from the Public Library Fund (PLF), according to director Carol Evers.
The library receives 97 percent of its funding from the PLF.
"Truthfully, I was shocked. The library has already had reductions of up to 20 percent," Evers said, adding that the proposed cuts seem unrealistic.
Staff and hour reductions would increase if Stickland's proposal is approved, she said.
And the cuts couldn't have come at a worse time.
Evers said circulation has increased, while unemployed patrons are utilizing the library by seeking job opportunities, updating their resumes and applying for jobs on the library's free computer usage system. Some college students also use the library to take online courses.
Many patrons have pledged their support and promised to contact Strickland and local representatives.
"On Monday, we quickly put into action a handout to patrons," Evers said.
A similar flyer with politicians' phone numbers is being distributed at the Mercer County main library, the St. Marys and Rockford libraries. The governor's phone number is also listed (614-466-3555). Snail mail can't get there in time. E-mail is preferred. The state's fiscal year begin July 1 and the budget must be in place by then.
Ohio State Sen. Keith Faber's phone number in Columbus is 614-466-7584; his e-mail is SD12@senate.oh.us. State Rep. Jim Zehringer's Columbus number is 614-466-6344 and his email is district 77@ohr.state.oh.us. Visit the Web site at http//saveohiolibraries.com for more information.
-- The Associated Press contributed to this story.