Saturday, June 27th, 2009
Locos snap Mariners' win streak
By Ryan Hines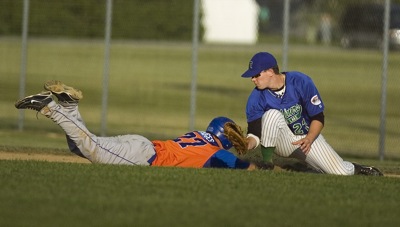 Just 48 hours after its best offensive showing of the season, Grand Lake's offense was shut down by the rival Lima Locos.
Grand Lake managed just four hits and was nearly shutout for the first time of the season as Lima ended the Mariners' eight-game winning streak with a 6-1 triumph at Jim Hoess Field in Great Lakes Summer Collegiate League action on Friday night.
It's just the second loss of the season for first-place Grand Lake (8-2), and both of the defeats have come against second-place Lima (7-2).
On Wednesday, Grand Lake amassed 14 hits and scored 13 runs, both season-highs, against Anderson, but things were much tougher for the Mariners offensively on Friday night against Lima.
The Locos' foursome of Derek Varnadore, Zach Laughlin, Colby Wood and Nick Sarianides handcuffed the Mariners' offense as the home team had just four hits in the game and were held scoreless before scoring on a wild pitch in the ninth inning.
"We hit the ball hard for the most part, but they (Lima) made some good plays behind their pitchers and their pitchers did a nice job of throwing strikes," said Grand Lake first-year manager Brandon Tormoehlen.
Laughlin pitched 22/3 scoreless innings in relief of Lima's Varnadore to pick up the win.
Grand Lake starting pitcher Cal Bowling, who took the loss, cruised through the first three innings, but ran into trouble in the fourth when a Mariners error kept the inning alive for Lima. Ryan Bridges was hit by a pitch and was sacrificed to second base on a bunt before advancing to third base on a fielder's choice. Bridges then raced home on a wild pitch for a 1-0 Locos lead.
Thomas Carroll, the Locos' number-nine hitter, then made Grand Lake pay for an error that extended the inning by smashing a no doubt three-run home run to right-centerfield that put Lima on top 4-0.
"They scored four runs in the fourth inning and we gave them an extra out, which they took advantage of," said Tormoehlen. "If we make that play for an out and don't commit that error, Carroll never gets up to bat to hit the home run. He took advantage of a mistake by our pitcher and put a good swing on it and drove it out."
Anthony Toth then made it 5-0 with an RBI single in the sixth inning while Tristan Moore drove home the final run for the Locos on a fielder's choice after a J.D. Ashbrook triple in the top of the ninth inning.
Jeff Holm had two of the four Grand Lake hits in the game to pace the Mariners' offense.
Grand Lake has a busy weekend ahead at Jim Hoess Field with a doubleheader against Southern Ohio today at 4 p.m. followed by a twinbill on Sunday against Licking County at 2 p.m.