Tuesday, July 7th, 2009
John Birch Society comes to St. Marys
'50s anti-Communist group now focusing on government compliance with U.S. Constitution
By Janie Southard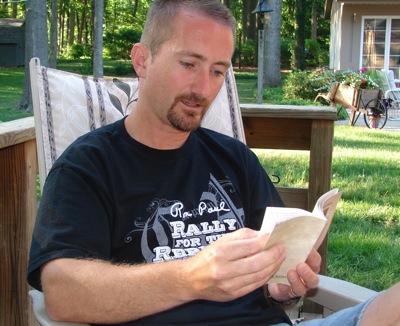 ST. MARYS - Some believe the U.S. Congress should not be making up the rules along the way. At least one organization is active in encouraging legislators to follow rules they say have been in place for more than two centuries. That group is the John Birch Society, which now has a chapter in St. Marys.
Yes, it's the same JBS of years ago that many remember in part for its quest to flush out communists. But even back in the 1950s, members say, the big thrust of the group was, and still is, to encourage Congress to abide by the Constitution.
"The John Birch message is still 'less government, more responsibility, and, with God's help, a better world,' " said JBS Chapter President Bob McCune of St. Marys, who also cited a passage he's read somewhere concerning communism: "Americans will never accept communism except when it's called liberalism."
McCune, a 1991 Memorial High School grad who now works for Veyance Technologies (formerly Goodyear), is a soft-spoken family man who sees the federal government straying from the country's doctrine as set forth by the founders. A big reason for him getting involved in JBS is so "my boys will have at least the same way of life I've had and better."
McCune is also a Ron Paul supporter and that's actually where the new JBS chapter originated in an off-hand fashion.
"I attended a Ron Paul meeting during the 2008 presidential campaign and got involved - even more so when the organizer got too busy with his own business. So he asked me to lead the meetings temporarily," McCune said during an interview on his backyard deck Monday evening.
The group was very active in getting Ron Paul information out to the public. "I'm no great speaker but I think our group made an impact. The state vote for Ron Paul was 6 percent. The Auglaize County vote as 12 percent," he said adding he didn't want the group to break up after the election and was looking for another avenue for people to express themselves.
A friend brought McCune's attention to the John Birch Society about a year ago and it has been a good fit, the chapter growing to 16 members.
"We have a lot of visitors ... It seems a lot of people are interested but they're afraid other people will find out (they are members)," he said. "Some people say JBS is right wing extremist. But, what we want is for Congress to follow the Constitution, nothing more and nothing less. How is that extremist?" he said.
There is no pressure put on anyone to do anything, according to McCune. "You are as active as you are conformable with. But the society does want pullers at the oars not riders in the boat." But that doesn't necessarily mean door to door activism. Members are encouraged to use any tools available to them: Twitter, Facebook, letters/e-mails to legislators, etc.
Unless you're familiar with the Constitution, there are surprises namely in what's not mentioned: The Internal Revenue Service and the Federal Reserve to mention two.
McCune explained the Federal Reserve is a private bank contracted by Congress to coin and print currency, the value of which is controlled by the amount of money produced. "It's where we get the inflation (printing a lot of currency) and deflation (printing less) of the dollar ... The idea came from a meeting of (U.S.) bankers on a resort island in 1910," he said.
Ken Matto, fromer congressional candidate from New Jersey, has called the IRS the "collection agency for the Federal Reserve," an agency he labels the most fraudulent institution ever perpetrated on the American people."
A current JBS movement is to gain congressional support for HR 1207, the Federal Reserve Transparency Act of 2009, introduced by U. S. Representative Ron Paul (R-Tex.).
"JBS members are writing their congressmen to urge co-sponsorship. U. S. Representative Jim Jordan (R-Ohio) has recently announced he'll co-sponsor," McCune said adding, this is the point: To shine light on what is happening in our government.

Who was John Birch?:
The John Birch Society was founded in 1958 by businessman Robert Welch of Indianapolis, who had published "The Life of John Birch" in 1954.
Birch was a Christian missionary who served in World War II and was killed by Chinese Communists 10 days after the war's end. He was 27.
Birch's parents were told he was killed by a stray bullet. Accidentally his "top secret" file came into the hands of his mother who traveled the country and finally discovered the truth of his death.
In 1950, a California senator, moved by the mother's story, gave a moving speech berating the government for the cover-up.
Welch believed Birch to be a simple, intelligent man whose death was covered up by the government. Had that not been so Welch further believed continuing relations with China and North Korea would have been very different.
Welch later explained at the JBS founding meeting that choosing John Birch as the namesake represented his own "obsession with this fight against the increasing forces of evil." He cited Birch as carrying "the torch of a humane righteousness .... when the communists struck him down."