Tuesday, July 7th, 2009
Mariners win fourth straight
By Gary R. Rasberry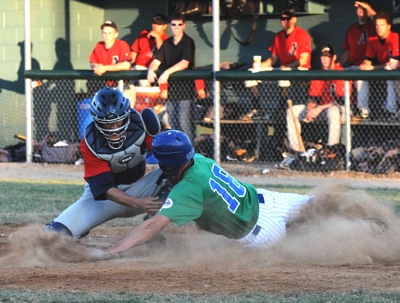 The old saying about patience being a virtue certainly had its share of believers in the Grand Lake dugout on Monday night.
The Mariners took advantage of Xenia pitcher Tyler Bersano walking five batters in the bottom of the fifth, leading to a six-run inning to help Grand Lake rally from down 2-0 to pick up their fourth straight win with a 7-2 decision over the Scouts at Jim Hoess Field.
The Mariners move to 15-6, most wins in the Great Lakes League, but stay percentage points behind idle Lima in the standings. The Scouts drop to 7-13.
Grand Lake, which only struck out five times against three Scout pitchers on the night, sent 10 men to the plate in the fifth against Bersano and reliever Mark Husband.
The Mariners got just two hits in the inning, a lead off single by Brian Lambert, who scored the first run for Grand Lake by coming home on a passed ball, and a two-run single from Adam Gecewich. The rest of the runners came on five errors, all by Bersano, plus an error that brought in the final two runs of the inning. Jared Hoying, Matt Hill, Andrew Host and Tyler Rogers also scored runs in the inning.
"Batters did a nice job grinding out at-bats," said Mariners skipper Brandon Tormoehlen. "Got to tip your hat to (Bersano) the first four innings. He had us off-balance, throwing a lot of sliders in fastball counts. Definitely kept us on our front foot a bit too much
"Our guys were definitely patient. In a nine-inning ballgame we definitely used our patience. (Bersano) lost it there (in the fifth) and our guys stayed patient. Didn't swing at any bad pitches there."
The Scouts drew first blood in the third inning off Mariner starter Brent McNeil. Andrew Douglas led off with a triple that right fielder Host just missed on a diving try. Harman Watkins singled in Douglas for the first run of the game, then later scored on Case Rigby's triple to center.
After that, though, Xenia managed just four more hits as McNeil settled down and battled through five innings of work.
"He gave up that bloop triple, then basically just made one bad pitch all night," said Tormoehlen, referring to Rigby's triple. "Brent did a nice job getting ground balls. He worked the bottom half of the zone. He kept them off-balanced for the most part."
The Mariner bullpen, potent all season, did not disappoint. Chris Bassit retired all six batters he faced in two innings, while Jeff Pacha got help with a double play started when Jared Hoying snagged a liner, then threw to first for the force. Andy Lowe wrapped up the nearly three-hour game with a perfect ninth to send the home fans happy.
"Anytime we can get a lead and hand it over to the bullpen, as a coaching staff, we feel confident in those guys," said Tormoehlen. "Our guys come in and throw strikes. They don't beat themselves. They make the hitters earn it. Any time you can do that, you'll be successful."
Grand Lake got the final run of the game in the seventh, as Gecewich came home when Michael Early reached on an error by Xenia third baseman J.B. Jenkins. The Scouts committed three errors on the game, resulting in only four of Grand Lake's runs being of the earned variety.
Gecewich paced the Mariners, going 2-for-3 with two runs scored and two RBI. Jeff Holm added a 2-for-4 game with a double.
Rigby and Watkins each had two hits for the Scouts.
The Mariners will look to close out the four-game homestand at 4-0 as Anderson comes to town tonight for a 7:15 first pitch.