Friday, July 24th, 2009
Ultimate spotlight on 'The Juggernaut'
By Gary R. Rasberry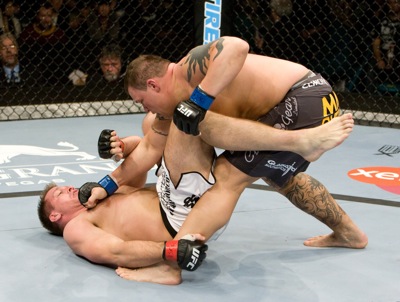 Last December Mike Wessel got the chance to compete at the highest level of mixed martial arts.
The Celina native will now get a chance to show his wares to a national television audience.
The heavyweight nicknamed "The Juggernaut" will be seen on national television this fall as part of the Ultimate Fighting Championship (UFC) series "The Ultimate Fighter" on the Spike TV network. The show will start on September 16 on Spike TV (Time Warner Cable channel 37) starting at 10 p.m.
"It's pretty awesome. I'm pretty excited about it," said Wessel during a Thursday afternoon telephone interview. "It's a great situation."
In the past, fighters from two different weight classes split up and competed for contracts.
This season, 16 heavyweight MMA fighters were selected to take part, split into teams of eight and battling to move up in competition.
The competition took place over seven weeks starting in June. The two fighters that made it through the competition will meet in December on live television for a six-figure UFC contract and a cash prize.
Wessel, 8-2 as a professional MMA fighter, got his opportunity to appear on the show after making his debut in the UFC in December. After accepting the fight on just over a week's notice, Wessel lost to Antoni Hardonk at UFC 92 in Las Vegas. Wessel, who was given a four-match contract with UFC, was training hard for his next fight when he received a call from Joel Silva, the UFC matchmaker.
"It happened so fast. The December fight, we took on 7-9 days notice. It all mixed in together," said Wessel. "Everything from there, they were impressed enough. I was training really hard. I knew I had some opportunities coming up. Joel asked me when I would be ready and I needed a little more time to let me get my body the way I want it and where I know I'm confident. I went to America's Top Teams (training center in Florida) and trained down there. I had a lot of good training down there and I was thinking of going to Albuquerque with a couple other guys.
"Joel said since I was taking a little time, I wouldn't be able to fight until at least August (or) September. He goes 'Well, we have this opportunity. Would you like to be on The Ultimate Fighter?' Who wouldn't want to be?"
Wessel knew that the most important thing about appearing on "TUF" was that he would be seen by a number of fans.
"It don't matter who you are or how well you do. You watch that show, people recognize you," said Wessel. "When you have fans, that helps your career more than just fighting every six months. You can fight your butt off, but if people only see you every six months, you get forgotten. With the TV show, they see you every week. A lot better publicity, just getting my name out there and showing what I can do."
Mike went through the tryouts for the show and earned one of the 16 spots that will make up the show. Then it was on to a mansion where all the fighters lived and traveled together to twice-daily training sessions and bouts.
A number of the other fighters that made the show were already known to Wessel through contacts and potential matchups.
"A lot of good friends I know and was supposed to fight, but could never get a place to pay us enough to fight, were on the show," said Wessel. "Justin Wren, Scott Junk and Wes Shivers were all guys I knew before, even Darrill Schoonover, we all hung out together at different places, either in Las Vegas or in Seattle trying out.
"It was really cool to see your buddies that were going to be your competition, or maybe not. It was really excited to see these guys I've known for 2-3 years, trying to make fights with in smaller places, and now we're going to be balling together. That was kind of the theme: We're all a bunch of big guys (Wessel is billed at 260 pounds) and we really don't get excited about that much, and the fact that we know each other and talked before was a positive. Yeah, we might have to fight each other, but we can still hang out for seven weeks and not kill each other."
The most notable member of this year's group is Kimbo Slice, who gained famed with backyard and back-alley fights that had multiple views on video sites like YouTube before joining rival MMA group EliteXC last year.
"I had a lot of friends call me and ask 'What was he like?'," said Wessel of Slice. "People are blown away. If you hang out with this guy, you find a highly intelligent, very laid back very cool guy. Me and him hung out and had a great time in the house and everything. I wasn't that thrown back, because you have to have some kind of niché or notoriety to get noticed and be as popular as he is. He has the beard and gold teeth and has the videos. That's how he got to this. It's not his fault for being like everyone else, wanting to be in the UFC. How he started is different than everyone else, but Kimbo's one of the coolest guys in the house.
"He's a huge family guy. He talked about his kids a lot. He has a lot more to lose coming in than everyone else in the house. ... Me and him both love to cook. He has the best barbecue sauce and mustard sauce I have ever had. That's all we did, barbecue all day. I blew him away with a couple things I made and he talked to me about cooking meals."
Wessel and the rest of the competitors had little communication with the outside world during their seven weeks of work.
"You don't know what's happening in the world. We didn't know Michael Jackson died. We didn't know anything," said Wessel. "We got in our vans with tinted windows that no one can see out of or see in. Half-hour to the gym and half-hour home twice a day. It's one of those things where people don't really realize how tough this show is."
Serving as coaches for this season are a pair of former UFC light-heavyweight champions in Quinton "Rampage" Jackson and Rashad Evans. While the two are known for their verbal sparring on camera, Wessel said that off-camera the two were class individuals.
"Rampage and Rashad, I'll say this of both of them... When the cameras are off, they are some of the greatest guys in the world," said Wessel.
Wessel talks highly of UFC President Dana White, who was key in getting Wessel his first UFC bout and onto the show.
"I never thought I would admire anybody, being 30-years-old and being over that in meeting famous people, but Dana White is a dead serious person when he talks about UFC and how much he loves fights," said Wessel. "He's one of the coolest people I have ever met in my life. I admire him. I'm not ashamed to say that, not because he's my boss or I'm trying to kiss butt, but this guy's for real. Everybody gets on him for his cussing and the way he talks, but he really truly cares about the fighters and truly cares about everyone in his organization, and MMA in general."
While Wessel cannot say anything about results or events on the show, he hopes that people, including old friends and classmates from Celina, will see his grit and determination in becoming a top UFC fighter.
"People that know me from high school through college (Wessel played football at the University of St. Francis in Fort Wayne) know me as a loud, love to have fun guy that goes to extremes. I always go to the top of everything," said Wessel. "If somebody tells me I can't do something, I'm going to make sure I will prove to them that I can do it. That's not been the case with MMA of UFC, I'm not trying to prove anything to anybody but myself. That's my persona: I'm going to do it and do it the best I can.
"I don't think anyone will be surprised by anything I do on the show, but I think a lot of people back in Celina and people around the country that know me - there's been a pretty amazing response with me being on the show - will get to see my drive and my heart. How much I care about my success and my future in the sport," said Wessel. "Everybody will get to see the character that I am and joke around and have good times, because that's who I am, but no one gets to see the serious side of me. The hard-working side that's passionate I am about being successful. I don't want to be known as an idiot or anything like that. I want to be known as a successful, serious person. I think that's what people will take away from the show, I think."
---
For more information about Mike Wessel, or if interested in sponsoring his training in UFC, go to his official Web site at www.mikewessel.net.