Wednesday, August 12th, 2009
Perennial powers shine at Celina Invitational
By Gary R. Rasberry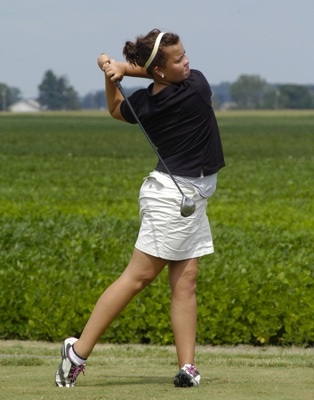 The golf season got underway this week, with Celina's girls opening up their season by hosting the Celina Invitational on Tuesday at The Fox's Den.
Perennial Southwest District power and returning Division II state qualifier Graham dominated the course on the day, winning the invitational with a blistering score of 326. Shawnee, a state qualifier as well last season, was a distant second with a 377.
Defending Midwest Athletic Conference and sectional champion St. Henry was the first local team on the leaderboard with a fifth-place showing of 391. Celina was seventh with a 404 and Versailles 13th with a 491. Marion Local and Parkway rounded out the 15-team field with rounds of 496 and 509.
Graham's Jessie Jordan, second team All-Ohio in Division II last year, took medalist honors with an even-par 72, five shots better than Bath representative Ashley Swartz's 77. Fairborn's Madison Justice was third with a 78.
Deanna Ray was the area's low-round honoree with an 86. St. Henry was paced by Shelby Link and Kendra Rindler, who each carded 92s on the scorecard. Brooke Smith led Marion Local with a 105 while Emily Winings' 106 paced Parkway. Versailles was led by Amber Wehrkamp's 105.
Celina is back in action on Thursday at the Defiance Invitational. Marion Local takes a break before opening MAC play on Aug. 24 against St. Henry at The Elks. Parkway and St. Henry travel to Stillwater on Thursday for the Versailles Lady Tiger Tee Invitational.
BOYS GOLF
Wildcats win Homan Invite
Minster got off to a strong start in its fall sports campaign. The Wildcats won the annual Scott Homan Memorial Tournament on Tuesday at Piqua Country Club.
The Wildcats shot a 311 to pull away for the win. Sidney won a tiebreaker for second over Versailles after both teams shot a 323. St. Marys placed ninth with a 358.
Craig Purpus led Minster on the day with a 75. Ben Hogenkamp shot a 76 with Adam Sherman carding a 78. Austin Fischer added an 82.
Wes Drees paced Versailles with a 75 with Matt Stover carding a 79.
Minster hosts the Auglaize County Invitational today at Arrowhead Golf Club.
LATE GIRLS GOLF
Redskins fifth at Covington Invite
St. Henry opened its season on Monday at the Lady Bucc Invitational at Echo Hills. The Redskins carded a 399 to place fifth in the 12-team field. Versailles was 11th with a 449 while New Bremen did not field a full team.
Tippecanoe, state runner-up in Division II last season, edged Graham 323-329 to take the team title. Laura Murray of Tipp set a tournament record by shooing a 2-under 70 to take medalist honors. Megan Swan of Tipp and Brooke Albers of Fort Loramie shared second place.
Ashley Kunkler of St. Henry was low Redskin with a 94. Kendra Rindler carded a 96 with Shelby Link shooting a 105.
Hadley Williams led New Bremen with a 103 with Hannah Rammel carding a 127.
Amber Wehrkamp led Versailles with a 95.