Tuesday, August 18th, 2009
Celina girls tennis dominates in season debut
By Gary R. Rasberry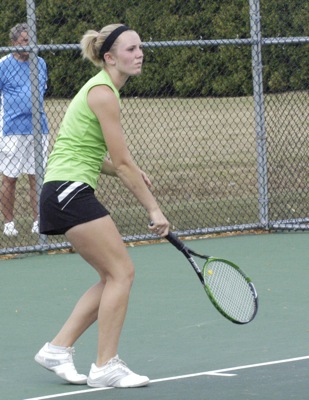 The Celina girls tennis team got the 2009 fall sports season started with a dominating performance, losing just one game in five matches to shut out Sidney 5-0 at the High School Tennis Courts.
Both doubles teams and the first and third singles for the NetDogs posted matching 6-0, 6-0 sets while second-singles player Emily Zender lost just one game to break up the monotony.
The squad, with two freshmen and two sophomores in the lineup, looked sharp.
"They made it look easy today," said Celina coach Jan Morrison. "A young lineup, but they don't play like an inexperienced lineup. I think they'll be a real solid team."
Veteran Amber Jaeger had little trouble against Yellow Jacket Monica Kislig in posting matching 6-0, 6-0 sets. Neither did freshman Brianna Beougher, who shut out Mara Siegel by matching 6-0 scores. Sidney's Mandie Smith managed to win one game in the second set to Zender, but then fell 6-0, 6-1 to complete the NetDog sweep of singles play.
In first doubles, Shelby Decker, who was second in third singles last year at the Western Buckeye League meet, teamed with Katie Pyle, one-half of last year's second doubles WBL championship team, to post a shutout against Nikki Subler and Kassi Edwards. Celina went young in second doubles with a sophomore and freshman. The result was Samantha Manci and Katie Kerr completing the sweep of Sidney with 6-0, 6-0 sets against Haruka Machimuta and Corrine Hohenstein.
"Sidney, I think, is very inexperienced this year, but I think our girls took care of the ball well today," said Morrison. "We'll look at second doubles, give some others a chance but Manci and Kerr, I thought played well today."
Celina travels to Piqua today for more non-league matches before coming back home on Wednesday to face always tough Greenville.