Tuesday, August 25th, 2009
Burkettsville man gets 20 years for rape
Four counts involve a girl under the age of 13; Dwayne Lorton shows no emotion at sentencing
By Margie Wuebker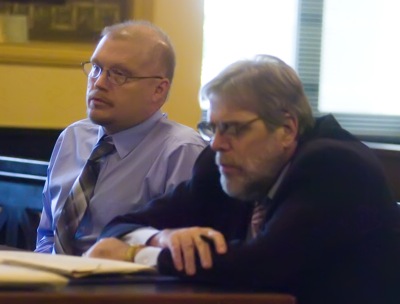 Burkettsville resident Dwayne E. Lorton showed no emotion Monday afternoon as Mercer County Common Pleas Court Judge Jeffrey Ingraham sentenced him to 20 years in prison on four counts of rape. All the incidents involved a girl under the age of 13.
The 41-year-old Lorton, who pleaded no contest last month, also showed no emotion as the victim's grandmother tearfully explained how his actions affected the victim.
"We were blinded by the seemingly genuine interest in our grandchildren," the woman said clutching a tissue.
The girl withdrew from the family wanting to spend more and more time with Lorton. Suspicions grew and they brought their concerns to Children's Services. A subsequent investigation confirmed their worst fears with a grand jury later returning a four-count indictment.
"How would you feel if someone did this to your daughter?" the heart-broken grandmother asked looking in Lorton's direction. He sat stoically with his head bowed.
Defense attorney William Kluge told the court he and Lorton had talked about events leading up to the offenses, although Lorton did not explain what triggered the crimes, which occurred between May 2005 and February 2007.
Kluge said Lorton had been suffering from depression and thought the unidentified girl, who is not a family member, really cared about him and he needed to be close to someone at the time.
"When the girl approached him, he should have told her mother," the attorney added. "He should have left. What Dwayne did was criminally and morally wrong, but he is not a random stalker."
The attorney said Lorton understood prison time was inevitable, but he asked for a minimum three-year sentence on each count with some of the time being served concurrently.
Lorton stood at the defense table and took a deep breath before apologizing for his actions, adding "I caused great shame to my parents and my family."
He expressed the hope that everyone involved can move on and start mending their lives as he heads to prison.
Mercer County Assistant Prosecutor Matt Fox expressed outrage at the comments made by Kluge. "I'm angry that we want to blame the victim. A child has no responsibility for what occurred," Fox said.
Fox said no prosecutor wants to put a young victim on the stand and that is what led to plea negotiations. "Now this young lady is being victimized again," he said in regard to earlier statements.
The negotiated plea agreement precluded Fox from arguing for more than 20 years in prison - five years on each of the four counts. The first-degree felonies carry the possibility of up to 10 years in prison with three years being the minimum.
Fox asked the sentences be imposed consecutively since the four offenses were committed separately involving the same victim. Ingraham granted the request as well as 59 days credit for time already served.
Being labeled a Tier III sex offender means Lorton will be required to register with the appropriate sheriff's office every 90 days for the rest of his life.
"I have some concerns about misunderstanding who is responsible for the crimes," Ingraham said looking intently at Lorton. "The victim is not responsible. The responsibility lays with you and nobody else but you. Trying to understand what happened is not the purpose of the law."