Tuesday, August 25th, 2009
Celina is beaten by Findlay in season opener
By Gary R. Rasberry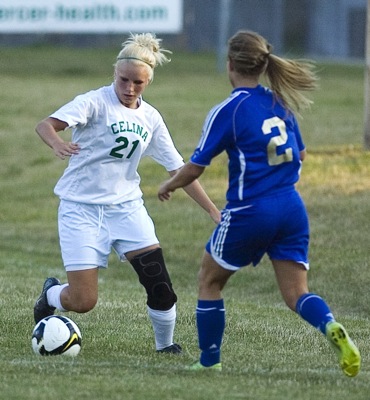 Things looked positive for the Celina girls soccer team after 40 minutes of play. The defense played strong as always-tough Findlay held just a 1-0 lead at the half.
That all changed after Ashley Miller scored her first goal of the game with 361/2 minutes to go in the match.
Miller's first of four goals sparked a run on the Celina net, allowing the Trojans to post a 6-1 win over the Bulldogs in the season opener at Celina Soccer Stadium on Monday night.
Celina keeper Josie Klosterman and Findlay netminder Shannon Mills had solid first halves of action. Mills saw seven Bulldog shots and made saves on six of them, while Klosterman had nine shots taken at her net, with four saves being made. The Trojans got their opening goal at the 24:43 mark when Regan Campbell took a Miller assist and put it past Klosterman.
"I thought we played very, very well in the first half," said Celina coach Calvin Freeman. "We controlled the ball more."
The start of the second half, though, Miller found the way for her own goals in quick procession. Less than four minutes into the second half, Miller took a breakaway and scored the eventual game-winner.
Five minutes later, a near carbon copy of Miller's first goal took place as Miller got another breakaway to make it 3-0.
Miller nearly made it three straight goals, but her shot was deflected. Fortunately for Findlay, teammate Maricella Hernandez was on target with the rebound to make it 4-0 with 26:27 remaining.
Miller then capped off her night with two more unassisted goals at the 23:03 mark and 18:50 mark to complete the four-goal, one-assist night.
"We took advantage of our speed on top in the second half, got a few breakaways," said Findlay interim coach Mark Laux. "It really opened the game a little bit. Very nice to see the girls play that way."
"Once they scored that (second goal), we had a major mental letdown, and it showed," said Freeman. "We can't do that against a team like Findlay. They're a very good team and they showed it."
Celina had trouble getting near the goal to try and get a consolation goal. The Bulldogs had no shots on goal until the 7:12 mark, when a Findlay penalty in the box allowed for a penalty kick. Candra Francis put the shot past Mills to prevent the shutout. Celina had just three more chances on goal the remainder of the game.
"We start our defense in the midfield, put a lot of pressure on them," said Laux. "We've been working on pressuring on the midfield and took away options."
"We have to put two 40s (halves) back to back," said Freeman. "We obviously didn't do that. We have some work to do. We're young and I think it showed. That was one of the concerns going into the season."
In the junior varsity match, Celina got goals from Tracy Donovan and Jessie Ausland as the Bulldogs edged Findlay 2-1. Katie Stahl recorded an assist on Donovan's goal.
Celina will look for win number one on Saturday, traveling to Oregon Clay for a noon kickoff.