Saturday, August 29th, 2009
Cavaliers get late-game heroics to down Wildcats
By Gary R. Rasberry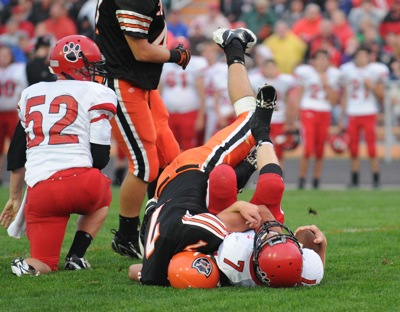 COLDWATER - One could tell the relief that the Coldwater coaches and fans were feeling as they gathered together after Friday's game.
In a game where momentum twisted and turned like a roller coaster, the Cavaliers saw a 22-0 lead evaporate with the Wildcats scoring 26 straight points of their own, only to come back and score with less than 90 seconds left and hold off a final Kenton drive to open the 2009 campaign with a 29-26 thriller at Cavalier Stadium, extending their winning streak against Kenton to eight straight games.
After talking about the lack of experience his team had before the season, Reed's squad certainly were experienced after the three-plus hour showdown.
"That's one of the greatest victories we've ever had. From a standpoint of a gut-check," said Reed. "Unbelievable effort. Defense hung in there. We had guys playing positions that they never played those positions before. They really gave all they got.
"They got experience tonight in this three-hour war. They're not inexperienced anymore."
The start of the game had the makings of some of the big decisions the Cavaliers have had the past couple seasons against Kenton. Senior quarterback Keith Wenning threw for two touchdowns - one each to Kurt Schoenherr and Kurt Westerheide - and saw Aaron Rammel run in for another to see the Cavaliers leading 22-0 with just over eight minutes left in the first half.
"They came out sharp," said veteran Kenton coach Mike Mauk. "We came out a little flat and they came out sharp."
If fans thought the wind was knocked out of the Wildcat sails, a hurricane erupted over the next quarter and a half.
Kenton sophomore quarterback Maty Mauk began to work his magic out of the spread offense, snapping the shutout halfway through the second quarter then used some timely misplays by Coldwater to get his team back into the game.
After Wenning fumbled on a rush, Mauk needed just two plays to find Max Morrison for a 14-yard score to make it 22-14 after Mauk hit Andrew Tillman for the two-pointer.
"I knew they were going to keep bringing it," said Reed of Kenton. "... You can't keep them down. I would hate to see the number of points they'll score this year."
On Coldwater's first play on the next drive, Aaron Rammel fumbled to put Kenton of the Coldwater 41. Mauk went deep to find Tillman. The two-point failed, putting the Wildcats just two points back with 5:54 left in the third.
"Talk about a game where the momentum just turned completely around," said Reed. "It started early when their defensive line was dominating. They really played well. No question about it."
The teams battled back and forth for the rest of the third and start of the fourth. Kenton got the ball back on the Coldwater 36 with 8:58 to go and wasted no time in going up as Mauk hit Tillman and Dan Lombardo on back-to-back passes to get to the Cavalier 12, then running in for the touchdown. A missed two-pointer made it 26-22 with 8:01 left.
"That could have been the end of the game," said coach Mauk about being down 22-0. "I thought our guys showed a lot of poise and confidence in themselves and finally took the lead in the fourth quarter."
Coldwater saw the ensuing drive end with Wenning throwing an interception to Alex Kissling, only to have the Wildcats fumble the first play of the drive. Josh Schlarman recovered to put Coldwater 75 yards away from the end zone with 5:18 to go.
Wenning passed and ran the Cavaliers downfield, converting a third-and-three from the 32 to keep the chains moving. The big play came on fourth-and-11 from the Kenton 46. Wenning went for the play and scrambled 12 yards to get a first down. Wenning followed with a run for five, then nearly being picked off for the third time before finding Schoenherr wide open for a 29-yard score with 1:26 left. Troy Otten made the extra point to put the Cavaliers up a field goal.
Kenton had time for a last drive, and got 10 yards on the first play from scrimmage, but the Cavalier pressure forced Mauk to scramble, incompleting two straight passes, then throwing wildly to the closest teammate, an offensive lineman. The ineligible man downfield call made it fourth-and-21, where Mauk's pass was batted down by Aaron Rammel. Wenning kneeled on the final play to end the marathon.
"I was turning around just looking for bodies we could get out there to play," said Reed. "We had so many kids not able to finish this game (due to exhaustion, cramping or injuries). We were really scrambling. Obviously, you have to give Kenton a lot of credit.
"It's an unfortunate ending for us, but a great performance by (Coldwater), especially on that last drive," said coach Mauk.
Wenning completed his first 12 passes of the game and finished 22-of-38 for 239 yards and added 65 on the ground.
"He showed his real toughness, The defensive line was really dominating," said Reed of Wenning. "How he stood in there, I don't know. Our fullbacks did a really good job helping us out at the end and picking him up."
Schoeherr snagged six passes for 76 yards and two scores, with Adam Rammel catching five for 62.
Mauk was 35-of-56 for 345 yards and three scores. Two going to Morrison, who had nine catches for 82 yards. Tillman added 10 catches for 117 yards.
Coldwater heads east next Friday to face Benjamin Logan for the first-time ever. Kenton opens Western Buckeye League play at Van Wert.