Saturday, September 5th, 2009
Marion Local wins convincingly
Canadian team had no answers for the Flyers' offense
By Randy Bruns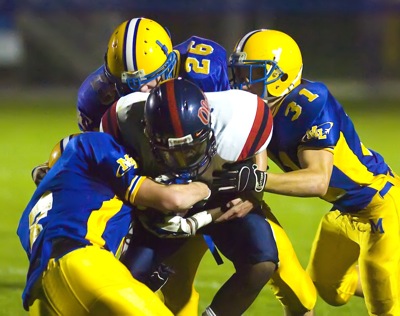 MARIA STEIN - The Marion Local Flyers brought their 'eh' game to Booster Field on Friday night, as they put a 61-14 thumping on the Crusaders of Our Lady of Mount Carmel, who made the trip from Mississauga, Ontario.
The Flyers scored on six of their first seven possessions to build a 41-7 halftime advantage and coasted from there to move their record to 2-0 on the year. The Crusaders, who fall to 0-1 on the season, were playing what amounted to a preseason game, as their official Canadian-rules season doesn't begin for two more weeks.
Nevertheless, it could be an important win for the Flyers, due mainly to the size of Mount Carmel, which has an enrollment of around 2,000 students. As a result, the Crusaders are classified as the equivalent of a Division I Ohio school, and any team they play will also be considered to be Division I. This means the Marion victory could provide a huge computer-points boost if the Crusaders can come close to replicating their 6-1 record from a year ago.
As for the game itself, it wasn't exactly a thing of beauty. The Flyers, who have been practicing for a month and also with a game under their belts already, were clearly more physical and conditioned than the Crusaders, who have only had six practices so far this year.
Marion's first possession started at its own 37-yard line but it didn't take long to find paydirt. The hosts stuck mainly to the ground attack, with Niles Keller racking up 43 yards of rushing, including the final two for the game's first score.
The Flyers' offensive attack was just getting started, as Jarren Griesdorn found Jared Prenger for a 21-yard scoring strike on the next possession. The following three drives ended in touchdown runs by Alex Post, Chris Kemper, and Keller before Austin Berning capped the first half scoring with a 48-yard bomb from Griesdorn.
The Crusaders, meanwhile, showed flashes of brilliance but made too many mistakes to stay in the game. One example of the brilliance was the athletic ability of running back Raul Thompson, who put the visitors on the scoreboard late in the second quarter with a scintillating 92-yard touchdown dash. On the negative side, however, the Crusaders were flagged for 12 penalties that went for a total of 89 yards.
"We expected what we got tonight," explained Mount Carmel coach Ed Ponikvar. "(Marion) is a team with four state championships in the last 10 years, and it's an impressive program. Football is at a different level in Ohio with the way people take it seriously. We've only practiced six times so far, and I think we're going to have a really good year when we get back home."
The Flyers scored on their first drive of the second half, as backup quarterback Ryan Mescher got into the action with a nine-yard touchdown pass to Berning. Prenger later returned an interception 40 yards for another Marion score, and sophomore tailback Mark Wuebker finished the scoring with a two-yard plunge in the fourth quarter.
"We talked all week about getting off to a fast start with them coming off a long trip and playing with new rules," said Marion coach Tim Goodwin. "I thought for the most part we took care of our assignments, especially offensively. I'm thinking that the Thompson kid may be the fastest player that's ever played on this field - I know he's the fastest I've ever coached against."
Marion will kick off its Midwest Athletic Conference slate on Friday when it travels to Rockford to take on the Parkway Panthers.