Wednesday, September 16th, 2009
Construction starts on water plant
Village one of few in Ohio chosen for $1 million in stimulus money grant for treatment facility, meters
By Janie Southard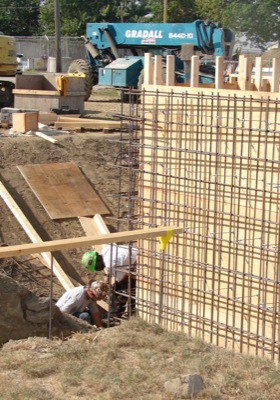 ROCKFORD - What began as a long shot a few months ago is now shovels-in-the-ground as construction on the new water treatment plant got underway this week, thanks to the American Recovery and Reinvestment Act.
The village was one of 56 villages in the state to receive stimulus money. Village Administrator Jeff Long credits solid preparation and information as key factors to receiving the $1 million grant to fund the new water plant and water meters. Plus, they received a $1.5 million zero-percent loan for 20 years.
Mosser Construction of Toledo and Freemont has begun pouring concrete for footers and holding tanks.
At the Tuesday night village council meeting, Long said there will be an additional change order for $3,500 for a height addition that will keep the project moving through the winter.
"The extra height is needed for the tanks and other equipment to be delivered later from the vendor," Long said. Without the added height, the construction crews would have to stop and wait for the equipment delivery.
The painting of the bridge on state Route 118 is underway, another village project funded by government stimulus money. The original plan was to close the bridge for 30 days; however, Long met with Ohio Department Of Transportation officials and the bridge will remain open on both lanes. Area businesses were concerned about closing off traffic into town.
"I really appreciate how ODOT treated this. They listened to our concern, approved our request and were quick to respond," Long told council members.
Street lights are in place on South Main Street. "Everything looks real good and the lights may be on as early as next week," Long said.
Trick or Treat Night will be Oct. 31 from 5:30 to 7 p.m. with judging at the firehouse at 7:30 p.m.