Wednesday, September 16th, 2009
Small community, big on improvement
By Margie Wuebker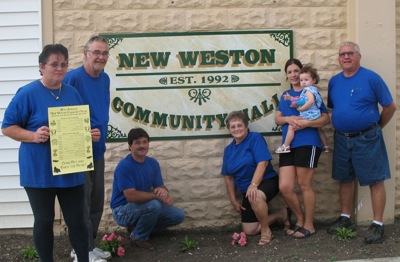 NEW WESTON - The New Weston Community Improvement Committee may be small when it comes to membership, but the group certainly gets things done from cooking up Sunday morning brunches to putting on a two-day picnic.
This small Darke County village has no industrial base, but it is blessed with two businesses that bring folks calling - Birt's Store and Mercer Landmark.
"We saw things that needed to be improved and dressed up," committee member Elaine Mueller says. "So we launched this community effort 18 years ago."
The committee's home quickly became the former Ohio Department of Transportation outpost and salt supply bin. Purchased by the village in the late 1980s, the block building needed some tender loving care along with insulation, paneling, flooring, a well-equipped kitchen, bathrooms and wheelchair accessibility.
Village councilors shelled out $100 for doors no longer needed at St. Bernard's Catholic Church in neighboring Burkettsville. They also purchased a large generator for the building, which serves as a shelter in times of weather emergencies such as blizzards and ice storms.
"People realized what we were doing and helped as best they could," Paul Mueller says. "Somebody donated an electric heater, and the stainless steel sink with three bowls came from the former Platfoot Bar. A lot of volunteer hours went into what we have today."
Thanks to donations, grants and a lot of hard work, the committee spent more than $8,000 redoing the hall, which is available to rent for social events. The latest purchase - a 42-inch, flat-screen television - has generated positive comments from the brunch crowd that shows up the first Sunday of the month January through October. Additional meals are planned for weekends when race car drivers and diehard racing fans pour into Tony Stewart's Eldora Raceway, a stone's throw down state Route 118.
"We had all of 13 people the first time around," member LaVonna Pitsenbarger says about the $5 Sunday brunches. "Last weekend we served over 180."
Race fans from Canada were among the crowd.
"People from the area just come and pitch in," Paul Mueller says. "Jerry and Rita Siefring of Burkettsville are always willing to lend helping hands. Last week we even had a truck driver from Texas who was visiting in the area volunteer."
Lent brings fish fries, and the group also is considering the addition of other meals like wing fries. This weekend's community picnic, complete with games, food and entertainment, is the committee's largest project.
Along with the Muellers and Pitsenbarger, others serving on the committee include Charles Foster, Ryan Foster, Thomas "Smokey" Fortkamp, Eric Widener and Brenda Walls. They quickly point out the list of volunteers is even longer.
"Every cent we make goes right back into improving the community," Paul Mueller says. "We've done a lot but there is always more to do."
Other projects include flowers along the sidewalks, a security light at the basketball court and some concrete work at the community park.
An ambitious project in the works will turn a vacant lot across from Landmark into a much-needed 115-by-156-foot parking lot.
"It's amazing what a small group can accomplish when people work together," Widener says. "And we have fun in the process."

New Weston Community Picnic schedule:

Saturday
• 5 p.m. - Food stands open
• 6 p.m. - Penny Pitch, mini garden tractor pulls and bingo begin
• 7 p.m. - Bounce room for kids
• 8 p.m. - Entertainment by Backlash
• Midnight - Picnic grounds close
Sunday
• 11 a.m. - Food stands open
• Noon - Parade sign up begins at corner of state Routes 118 and 705
• 1 p.m. - Parade



• 2 p.m. - Bingo, This & That Stand, mini garden tractor pull, games and Bounce Room begin
• 2 p.m. - Horseshoe tournament
• 2-4 p.m. - Car cruise-in with judging at 5 p.m.
• 3 p.m. - Elvis impersonator Keith Bernheisel
• 3 p.m. - Ji-Yuu Dojo martial arts demonstration
• 3 p.m. - Kiddie tractor pull
• 4 p.m. - Barbecued chicken dinners
• 8 p.m. - Raffle drawing
• 9 p.m. - Picnic closes