Saturday, September 19th, 2009
Coldwater stays perfect on the season
By Randy Bruns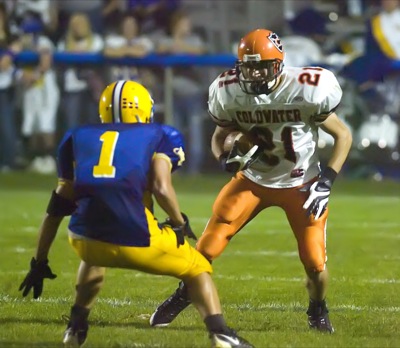 MARIA STEIN - The Coldwater Cavaliers put on an offensive clinic at Booster Stadium on Friday night, as Keith Wenning and company scored early and often en route to a 42-19 thrashing of the Marion Local Flyers.
The win moves Coldwater's overall record to 4-0 and its Midwest Athletic Conference slate to 2-0, while Marion falls to 3-1 on the year and 1-1 in league play.
Wenning, the senior signal caller who operated out of the shotgun, was nearly perfect on the night, hitting on 22 of his 26 passes for 213 yards and three scores. Not content to do it all through the air, Wenning was also Coldwater's leading rusher on the night with 52 yards on 15 totes.
The Cavaliers showed early on that it would be a long night for the Flyer defense. Starting the game's first possession on their own 25, the visitors moved methodically down the field, racking up first downs along the way. Wenning got his arm warmed up quickly, completing six-of-seven passes for 49 yards, with the last strike going for a 10-yard touchdown pass to Adam Rammel.
On their ensuing possession the Flyers provided fuel for the Cavalier fire when quarterback Ryan Mescher mishandled a snap and the visitors pounced on the loose ball at the Flyers' 47-yard line. Two completions and two runs from Wenning later and the ball was on the Marion two-yard line before Kurt Westerheide bulled in three plays later to make the score 14-0.
Marion struck back quickly when Mescher atoned for his earlier miscue by hitting Jared Prenger in stride on an in route. The senior receiver raced untouched 61 yards for a touchdown, but the point-after kick sailed wide and the hosts were still down by eight.
The Cavaliers wasted no time in answering with a big play of their own. Ross Wermert took the ensuing kick at his own five-yard line and wasn't sniffed by a Flyer defender, as the junior sprinted unscathed for a 95 yard return touchdown.
The Flyers were undaunted, though, and put together their first sustained drive of the night. A pair of long completions brought the ball into Cavalier territory, but the drive appeared to bog down after three runs netted just nine yards. However, on the fourth-and-one play Niles Keller took a pitch and sprinted around the end and up the field for a 30-yard dash to paydirt. This time the point-after sailed through and the hosts were down just 21-13.
Coldwater inserted the dagger into Marion's hopes just before halftime. After a holding penalty backed up the visitors by 15 yards, they faced a fourth-and-17 in Marion territory. Wenning dropped back and found Rammel down the sideline, and the senior wideout did the rest by dancing around and through Marion defenders for a 34-yard touchdown that made the score 28-13.
The Cavaliers put up an exclamation point on their first drive of the second half, once again on the strength of Wenning's arm. A 14-yard completion to Reese Klenke brought the ball into Flyer territory, and three plays later Wenning found Kurt Schoenherr on a slant pattern for an eight-yard scoring strike.
According to Coldwater coach John Reed, getting an early lead made things much easier for the Cavaliers.
"We've been able to score early in ballgames recently," said Reed. "Having Adam Rammel back really makes a big difference, because he opens things up out on the edge. Then our defense got better and better as the game went along and we adjusted much better."
Marion coach Tim Goodwin knew his squad could be in for a long night when he saw how the Coldwater offense was clicking.
"They have jumped on every team played so far and we talked about that, but you've got to execute," said Goodwin. "Their quarterback was the difference, among other things. Every ball he throws is right there, and if it's not complete it's real close. You can't bust a coverage and get away with it, and that's unusual for a high-school quarterback."
Both teams will faced unbeaten squads in next week's MAC battles, as Coldwater hosts Anna and Marion Local travels to St. Henry.