Friday, September 4th, 2009
Worst crops in nation here in Mercer County
Good crops predicted for most parts of the nation, but not here
By Nancy Allen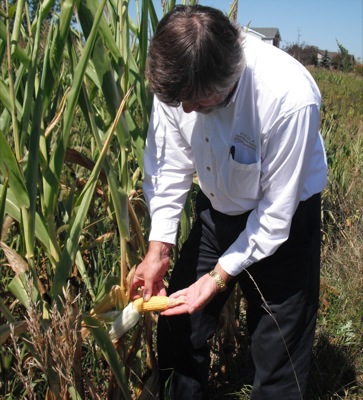 The worst crops in the nation are located in a small area that includes Mercer and Auglaize counties, even though record crops are being predicted nationwide this year, an area ag official said on Thursday.
John Leighty, a grain merchandiser with Advanced Agri-Solutions, spoke at Thursday's monthly ag breakfast meeting in Celina. He was among a group of people who recently went on the annual National Pro Farmer Crop Tour to survey the nation's crops.
"We saw 80 to 90 bushel corn here," Leighty said. "It was absolutely the worst crops in the country right through here."
The losses are due to drought conditions.
Leighty said the Kossuth and Glenwood areas north to Wapakoneta and Uniopolis in Auglaize County is the epicenter of this worst area that includes Mercer County. The whole area stretches across Mercer and Auglaize counties and into Hardin County to the east and into parts of Van Wert and Allen counties to the north, he said.
In Mercer County itself,
the areas north and west of Celina, starting at the village of Rockford south to state Route 29 is the worst. South of state Route 29 it gets better, but it starts from bad, said Mercer County Farm Service Agency Executive Director Chris Gibbs.
Gibbs surveyed a field on Wednesday about three miles east of Celina that he estimated would produce about 40 bushels per acre, about a 70 percent loss. The ears on one plant examined were about five inches long and the top five or six rows of kernels didn't even pollinate. The average yield for corn in Mercer County in 2007 was about 148 bushels per acre and soybeans was about 50 bushels per acre, the Ohio Department of Agriculture USDA National Agricultural Statistics Service annual report says.
Grain farmer Mark Houts, who farms about seven miles northwest of Celina, said the crops don't start to look decent until you get near the city of Van Wert.
"What's kept us from having a complete wipeout (locally) is it's been cooler," said Leighty. "If we would have had temperatures in the 90s, the crops would have baked."
A lot of the county's beans are still green, but starting to lighten and dry out fast, even though they aren't done growing yet.
Leighty said Mercer County corn farmers who will suffer yield losses this year due to drought conditions might think corn prices will be higher because they won't produce as much corn. But that likely won't be the case because markets look at the big picture.
"We're looking at a 162 bushel per acre average in Ohio this year, but we know the corn around here isn't going to be close to that and that's a hard pill to swallow," he said. "There won't be any rush to get corn to market."
Leighty said there currently is an abundance of corn, which makes for lower prices. With the U.S. corn crop predicted to be big, prices could go lower.
As far as beans go, he recommended producers not store them after harvest because bean prices initially should be good.
There currently is an extreme shortage of soybeans locally and worldwide, he said, making for higher bean prices right now. At least until the U.S. soybean crop is harvested. The shortage is due to South America's smaller crop caused by dry weather, increased buying by China and good U.S. soybean exports.
"Those first crop beans you want to take them right to the processor," he said, adding that local beans likely will be harvested earlier because they are drying out faster.
As local farmers watch their crops dry up, farmers in other parts of Ohio, just a county away, are happy with what they see.
In the Botkins area in Shelby County, farmers will harvest between 188 to 211 bushel per acre corn. In the area from Eaton to Greenville in Darke County, farmers will see 230 bushel per acre corn, Leighty said.
It's hard to imagine looking at local fields, but some parts of Ohio and states to the west have been excessively wet this year, he said. Crops there looked lush and fields were muddy, not dry as they usually are this time of year. Some fields in Illinois had standing water.
Leighty said some acreage will be lost this year due to frost because some crops got planted late. But if the frost comes later, the plants would still have some time to mature.
Gibbs said farmers no longer can apply for ad hoc federal disaster assistance because it was discontinued with the new Farm Bill. However, they could be eligible for subsidy payments through the Supplemental Revenue Assistance Payments (SURE) program, a new component in the farm bill which provides qualifying farmers payments for crop losses. In order to be eligible, farmers must have insured all their crops and signed up for the SURE program.
"Yesterday I saw corn that wouldn't make 90 bushels. For a producer like that if they're not insured, there's nothing for them in disaster payments."
Mercer County FSA loan manager Marla Koerner said producers could be eligible for low-interest emergency loans from USDA for crops losses, but only if the county is declared an agricultural natural disaster.
The next monthly ag breakfast meeting is 7:30 a.m. at the Mercer County Central Services Building in Celina.