Saturday, October 10th, 2009
Coldwater makes it 13 straight victories over rival St. Henry
By Gary R. Rasberry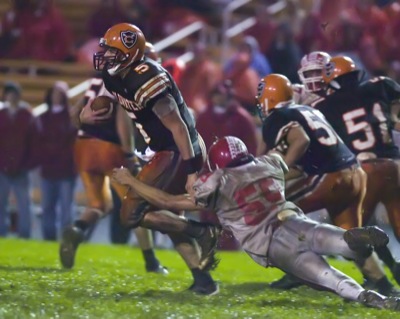 COLDWATER - The 2009 rendition of the Backyard Battle proved to be a defensive struggle, with St. Henry and Coldwater battling each other as well as the elements.
The Cavaliers shut down the Redskins' offense and Coldwater made it 13 straight wins over St. Henry with a 17-0 shutout at Cavalier Stadium.
The win moves the Cavaliers, top-ranked team in Division V, to 7-0 overall and 5-0 in Midwest Athletic Conference play going into next Friday's big battle with Division VI's top-ranked Delphos St. John's with sole possession of the MAC lead on the line. St. Henry suffers its second straight shutout loss to go to 5-2 overall and 3-2 in conference play.
The key to Coldwater's win was the defense. The Cavaliers took away St. Henry's potent all-around player Neil Schwieterman, limiting him to just two yards rushing and no catches. Redskins quarterback Brad Stahl was harassed for most of the evening, as the Cavaliers defense sacked him four times and held him to 91 yards passing with a negative seven yards rushing before leaving the game late in the third quarter with an injury.
In all, St. Henry tallied just 92 yards of offense on 46 plays, including just a single yard rushing.
"I didn't expect we would be able to play as well as we did because I just have so much respect for their offense," said Coldwater coach John Reed. "... I just expected them to really give us (trouble).
"They really do threaten you on every play, but the defense really deserves the credit tonight," added Reed.
"We're not controlling the line of scrimmage offensively," said St. Henry coach Jeff Starkey. "That's the most critical part right now. It just limits what you can do when you can't control the line of scrimmage."
Coldwater was able to move the ball at the times it needed to. St. Henry put pressure on the Cavalier receivers, allowing Cav quarterback Keith Wenning some running room. Wenning rushed for 79 yards on 13 carries and a third-quarter touchdown to make it 17-0.
When the Redskins tried to clamp down on the run, Wenning found some open targets. While the rainy conditions made for some tough passing conditions, Wenning was able to complete 11-of-20 passes for 168 yards, finding Reese Klenke for a 14-yard score early in the second quarter.
"They are really stout up front," said Reed of the St. Henry defense. "They have a really good plan. Their secondary coverage was well-planned out for what they do. You have to give them a lot of credit."
Starkey had no issues with his defense, other than they were on the field longer than he would have liked.
"I thought we had a great effort on defense," said Starkey. "When you're on the field that long, giving that many plays (52 plays for 271 yards) and opportunities, we're putting our the defense in a real tough position by not moving the ball the past couple weeks."
St. Henry's Tyler Bruns took advantage of Neil Schwieterman and Victor Fortkamp being covered by the Cavalier defense by snagging five catches for 45 yards. Fortkamp finished with 24 yards on two catches.
Klenke had 49 yards on four catches for the Cavaliers.
St. Henry will try and snap its current losing streak on Friday, hosting Fort Recovery.