Monday, October 12th, 2009
Hensley enjoys his work as a Redcoat
By Gary R. Rasberry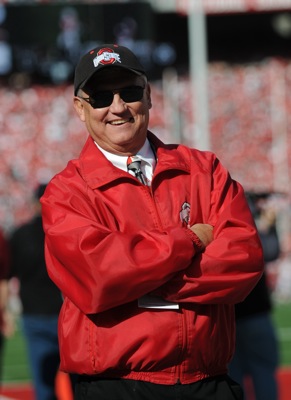 COLUMBUS - Like many an Ohio State fan, Gary Hensley makes a trek to Ohio Stadium for every home game.
But rather than tailgate and head in to watch the game, he makes sure the opposing team gets ready to face the Buckeyes.
Hensley, a Celina resident, has served as a Redcoat, a member of the OSU service staff, at Buckeye football games for five years, serving as the escort for the visiting team and officials as they come to the stadium.
"I've always been an Ohio State fan," said Hensley in a telephone conversation before Saturday. "Our son (Kyle) was a physical therapist in Columbus. "A patient came in one day, and her boyfriend was the one who hired the Redcoats. In the conversation, my son said I was a big Ohio State fan. After talking to her boyfriend, I was asked to contact him and he hired me."
Hensley's day begins 41/2 hours before kickoff, meaning that he was in Ohio Stadium around 11 a.m. for Saturday's 3:30 p.m. start with Wisconsin, helping the visiting team's pre-game personnel to get to where they need to be.
When the team arrives, Hensley makes sure those who have the pass to get to the locker room and field are pointed in the right direction and those needing to get to the press box make it there. Other duties, such as procuring carts to move equipment and people, and occasionally getting beverages for the staff, make the two hours before kickoff busy.
Hensley makes sure the visiting team gets to and from their locker room, then coordinates the post-game meal for the team when it's delivered to the stadium. When the team gets loaded up and on the road 90 minutes or so after the final play, Hensley heads home.
"There's a lot of pride in being a Redcoat," said Hensley, who spent many years as a teacher in the area. "They explain to us that our job is to be a service to the public. I was lucky to get a position to take care of the visiting team and the referees and chain gang. I take a lot of pride in that part of it.
"When they come into the stadium, we want them to feel welcome and going away feel they were well-treated. We've had a lot of good comments from visiting teams on how they were treated."
Over his five years of work at the stadium, Hensley has conversed with a number of coaches.
Among those that stick out is longtime Penn State coach Joe Paterno, especially a moment when Paterno had to leave the field due to illness several years ago.
"He's just a quality gentleman," said Hensley of Paterno. "When he went in (to the locker room after falling ill), he said in 60 years (of coaching) he's never left the field early while playing or coaching. He will stand and visit with me 10-15 minutes when he gets there or gets ready to leave. He's just a regular guy."
Another memorable conversation involves the late Northwestern coach Randy Walker. Hensley immediately found a topic to bond with Walker in former Celina quarterback Mike Bath, whom Walker coached at Miami. But it was about another topic closer to the heart that Hensley remembers.
"He talked to me about a half hour before the game. One of the best stories was about how his son wanted to get into coaching," said Hensley. "He explained to his son the type of life it was. To see if he really wanted to work in there, he made him work without pay for six months. I still believe he's still on the staff at Northwestern."
Last home game against Illinois, Hensley ran into Illini coach Ron Zook, which brought up a memory from the last meeting at Ohio Stadium two years ago.
"His first year, Ohio State won 30-0. As he left, I was standing in the doorway. I always say something to them like 'Have a safe trip.'," said Hensley. "He grabbed my hand and he told me 'I want your (butt) here two years from now.'
"Well, two years later when they beat us when Ohio State was number one, I was standing in the doorway when he left and he said "I guess you're a man of your word.' "
Although he has been there for over 30 games in his tenure, three stick out. The night games with Texas and this year with Southern Cal, and the 2006 game with Michigan when OSU was top-ranked and the Wolverines second.
"That was very exciting to be able to be there," said Hensley.
Hensley hopes to keep working with the team, saying "as long as he can walk" he would do it. He would, though, like to get the chance to work the Ohio State side in the future.
"There's a gentleman who's been there over 30 years," said Hensley. "I hear nothing but great things about him. If I could make a move, that would be the only one I would like to do."