Wednesday, October 14th, 2009
Flyers earn at least a share of MAC crown
By Mark Ruschau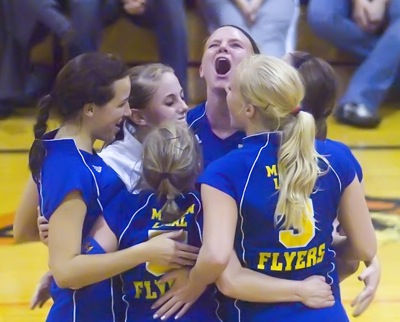 VERSAILLES - It had all the makings of a great night, two top-ranked volleyball teams, teacher versus pupil, the last volleyball match in a venerable facility and - oh by the way - a conference title was on the line.
Tuesday night Amy Steininger's Marion Local Flyers spoiled the fun as they made their last trip to Tiger Gymnasium memorable by defeating the Versailles Tigers, under the direction of former Flyer assistant Karla Otte, in convincing fashion 25-22, 25-15, 25-18.
With the win, Marion Local, the number-one ranked team in Division IV improves to 21-0 overall, and more importantly, the Flyers clinch at least a share of the school's sixth Midwest Athletic Conference championship as they improve to 8-0 in league play. Versailles falls to 7-1 in the MAC and to 19-2 overall.
Marion Local can clinch the outright conference title on Thursday if it defeats the Fort Recovery Indians. Versailles closes out conference play as well on Thursday traveling to New Bremen.
"We knew coming in here that it was going to be a tough match, because Versailles is having an awesome season," said Steininger. "It was weird having Karla on the other bench because I want her to do well and I am good friends with her, but I also knew that she was going to bring a tough team in here tonight and I knew that she and her team were going to be competitive. Now we can cheer them on the rest of the way."
"Marion came in here and beat us in every phase of the game," said Otte. "They are a very well-coached volleyball team, they have great players and I guess if we have to lose a match like this, I guess it is less upsetting to have it happen to a great team like the one we faced tonight.
"We still have goals and a greener pasture in front us," continued Otte. "Now we have to regroup, make a trip to New Bremen, finish out the regular season and get ready for the tournament."
The Flyers parlayed a balanced hitting attack and great defense in the victory.
Offensively, Marion collected 48 kills divvied up between nine different hitters. Margaret Wuebker led the way with a team-high 12 kills. Ashley Lochtefeld added nine and Kaylee Schaefer and Kelly Schlarman chipped in seven each.
Marion did a great job defensively as it limited Versailles to just 21 kills in the three games, including just 10 in the last two games. The Flyers did a great job on Versailles' outstanding middle blocker Megan Campbell to just 12 kills, six in the last two games.
As well as Marion Local did controlling the Versailles hitting attack, the Flyers also did an outstanding job at the net recording eight blocks, led by Wuebker with three.
"Margaret Wuebker our sophomore middle hitter had a great night tonight," commented Steininger. "Tonight was the first time she led us in kills and she had 12 kills in 24 swings. I really don't think that they were expecting that kind of game of her but she was awesome tonight. I thought she was great at the net and did a great job blocking.
"It was really team effort tonight from us," continued Steininger. "We had real good ball control from our back row players, our blocking was solid from everybody and our setters did an awesome job tonight as well."
In game one, Marion Local used its power game to pull away late. With the game tied at 18, the Flyers combined a pair of kills from Wuebker and hitting error by the Tigers to build a 22-19 lead.
Versailles did not go away as Lauren Rindler and Taylor Ording recorded back-to-back kills to lower the deficit to 22-21. After a kill by Wuebker made the score 23-22, Jodie Brand brought Versailles back to within one, one last time, 23-22. Marion Local then closed out the game with a Wuebker kill and a Stacey Huber service winner.
In game two, Marion Local scored seven of the games first eight points and 15 of the first 20 and they were never threatened. Alyssa Winner had five kills and a block in the game.
Versailles did not go quietly in game three as it used three kills and a block from Campbell to jump out to an 10-7 lead to force a Marion Local timeout.
After the timeout, Marion Local rallied behind the play of Wuebker and Kelly Schlarman to outscore the Tigers 18-8 to take the game and the match. Wuebker had six kills and block and Schlarman added four kills.