Thursday, October 22nd, 2009
Bulldogs cruise to easy victory
By Gary R. Rasberry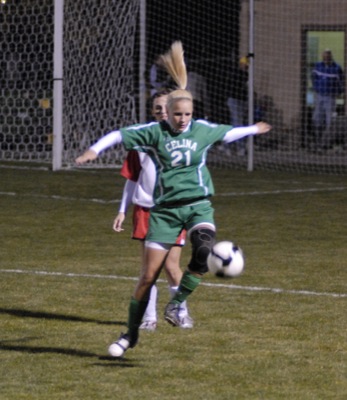 FINDLAY - It only took less than a minute for Celina to take the lead against Lima Senior.
It didn't take much more to make it a blowout.
Ten different Bulldogs scored as Celina opened Division I girls soccer sectional play with a 12-0 rout of the Spartans at Graham Soccer Stadium on the campus of Findlay High School.
The Bulldogs (12-3-2) now face WBL foe Shawnee on Saturday at 7 p.m. in Findlay in a sectional final match. The Indians defeated fellow WBL member Wapakoneta 3-1 in Tuesday's opening match. The Spartans end their season at 2-14-1.
It took just 28 seconds for Celina to seal the game, as Emily Pottkotter fired a crossing pass to Mackenzi Rutschilling for the opening goal.
From there, the goals kept rolling. It was 3-0 with less than 10 minutes gone in the game, with Hanna Mast and Beth Parker putting in goals. Halfway through the first half, it was 5-0, with Pottkotter and Katelyn Moorman adding goals.
Celina coach Cal Freeman cleared his bench, bringing in regular subs and postseason callups from the junior varsity program. No matter who was in there, Celina scored. Tracy Donovan and Hillary Heiby tallied goals to make it 7-0 with 81/2 minutes left in the half.
The Bulldogs attempted 14 shots on goal in the opening half, making seven. Celina had six corner kicks and defensively kept their keeper Josie Klosterman mainly inactive as the Spartans were unable to get close to the goal.
"We outgunned them. There was no doubt about that," said Freeman. "The one thing I give Lima Senior credit for is they never quit. They always challenged, come out and have a great attitude as a team. I take that as something, as a team, we can learn from. Such a great attitude, even while getting beat."
Players rotated in and out of the Celina lineup as much as possible, as Klosterman got pulled for backup keeper Andrea List late in the game. Lima Senior did not attempt any shots and did not record a corner kick.
Second-half goals for Celina came from Pottkotter, Taylor Guingrich, Beth Parker, Kacy Stachler and Caroline Hinders. In all, Celina attempted 26 shots on goal.
"Ten minutes (to go in the first half), we basically took everyone out and put the second team in there and let them play," said Freeman. "Second half, we split it up.
"Hopefully, it was a good tuneup for Shawnee, which, obviously, will be a completely different kind of game."