Saturday, October 24th, 2009
Flyers snap slide with running game
By Randy Bruns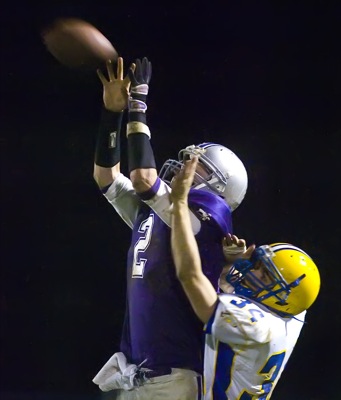 FORT RECOVERY - The Marion Local Flyers found something that worked Friday night against the Fort Recovery Indians, and they stuck with it all game long to help snap a five-game losing streak.
The Flyers pounded the ball on the ground 57 times for 354 yards, and though they gave up a couple late scores, the visitors had enough of an advantage to hold on for a 34-20 victory.
It was Marion's first win since early September and raises its record to 4-5 overall and 2-5 in the Midwest Athletic Conference. Fort Recovery fell to its fourth straight defeat and now has a 3-6 overall record and a 2-5 league slate.
The Flyers made their intentions known early on, as they received the opening kick and stuck solely to the ground. No rush went for more than 10 yards, but the visitors still ate up large chunks of yardage and game clock on their opening salvo. It took 12 totes by four different ball carriers, but Niles Keller finally punched it in from two yards out and Mitch Bergman's extra point kick gave the visitors a 7-0 lead.
After forcing the Indians to punt, the Flyers got a nice return by Jared Prenger and started their second drive at midfield. Once again the rushing attack did most of the damage, though Jarren Griesdorn did find Logan Albers for a 13-yard strike that went for a first down. Then it was back to smash-mouth football, as Alex Post took a sweep pitch, veered wide, and stepped inside the pylon from 8 yards out to give his squad a 14-0 advantage.
Meanwhile, the Marion defense was bending but not breaking. Fort Recovery notched a pair of first downs on its first two drives, but the first ended in a punt and the second was short-circuited when Ryan Mescher picked off a pass deep in Marion territory.
The Flyers tacked on one more score before the half, again on the strength of a bruising rushing game. This drive was almost all Keller's, as the junior carried four times for 29 yards before busting one outside and sprinting 46 yards untouched to paydirt.
The Indians finally put together a complete drive late in the third quarter, but unlike the Flyers, they did their damage through the air. Quarterback Greg Kahlig completed all four of his passes to swiftly move his squad downfield. A 14-yard strike to Craig Tobe brought the ball to the Marion 10-yard line, and then the two hooked up again for the hosts' first score of the night. The point-after kick failed, though, to keep the score at 21-6.
After giving up their first score of the night, the Flyers responded quickly on offense. On their ensuing possession, it took the hosts three plays to reach the end zone, as Post broke several tackles and 69 yards later found his way to the promised land. The Flyer defense then stepped up and forced a three-and-out, and the ground game once again got a good workout. Ten handoffs netted 48 yards, with the final carry resulting in a 10-yard touchdown jaunt by Keller that made the score 34-6.
The Indians rallied for a pair of quick touchdown drives late in the fourth, but it was too little, too late for the hosts.
"It feels good to get back on top with a win," said Marion coach Tim Goodwin. "Hopefully we can have a good week of practice next week. It looked like our best strategy was to use our running game against their defense, and our backs really ran hard tonight."
Fort Recovery coach Brent Niekamp knew coming in that his team's run defense would be tested.
"We knew that they would try to run the ball, and they did that pretty well," said Niekamp. "They've got kids up front that block well and they run the ball real hard. They're good at what we do, and we did get some good stops but we also stopped ourselves offensively. I think (Marion) came out early a little bit better than we did."
The Marion ground game was led by a pair of junior backs, as Post paced the Flyers with 157 yards on 21 carries and two touchdowns, while Keller amassed 151 yards on 23 carries with three scores.
Predictably, the Indians moved the ball mostly via Kahlig's big arm, as the senior finished with 266 yards passing. His favorite target was Cody Fiely, who hauled in nine passes for 129 yards.
Both teams finish with major tests next week, as Fort Recovery travels to Delphos to take on the 9-0 St. John's Blue Jays, while Marion will host the 8-1 Anna Rockets.