Monday, October 5th, 2009
Celina ties for overall WBL title
By Gary R. Rasberry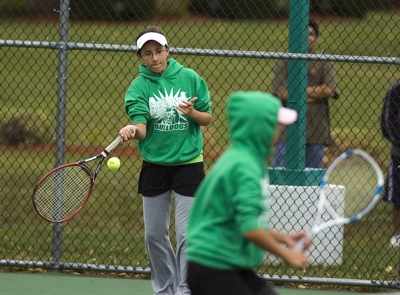 Celina captured three championships during the finals of Saturday's Western Buckeye League girls tennis tournament on the campus of the University of Northwestern Ohio.
Even with that, and going 9-0 in WBL regular-season matches, the NetDogs were forced to share the overall team title with Shawnee.
The Indians scored 30 points in the tournament to capture the 10 points toward the overall team title. That, with the nine points from the regular season, gave Shawnee 19 total points. Celina scored had 24 points in the tournament to pick up nine points from the tourney and 10 in the regular season to get its 19 points.
Nevertheless, it's the third WBL title for Celina in the decade and fifth in school history.
"We went there and did everything we needed to do," said Celina coach Jan Morrison via telephone. "We beat Shawnee head to head in three positions today. We beat them in three positions in the dual match earlier in the season. A paradoxical anomaly of how they do the scoring. It feels like we won, but the scorebook says we tied.
"I feel we have the bragging rights because of how we did it. The girls won in straight sets today everywhere. They went there with a purpose and came away with the championships."
In first doubles, Katie Pyle and Shelby Decker had a wild finish to capture the championship. The Celina tandem beat Shawnee's Melinda Maté and Sawmya Bulusu 6-3 and 6-4 to advance and face Wapakoneta's Kara Wellons and Olivia Nelson. Decker and Pyle won the opening set 7-5, but trailed 0-5 in the second set before posting a remarkable comeback to win 7-5 to take the title. For Pyle, it was a second straight WBL title after winning second doubles last year with Shareé Werling. Decker was the WBL runner-up in third singles last season.
"Once they got their momentum going, there was no stopping them," said Morrison. "It was a great final point. Shelby made a great shot to win it. Katie was serving and it was back-and-forth. Shelby put it away at the net."
The twin sister combination of Audra and Samantha Manci completed an undefeated WBL season in capturing the second doubles title. The Manci's beat Ottawa-Glandorf's Mary Wischmeyer and Kristen Zender 6-0 and 6-0 to advance and face Shawnee's Grace Baird and Taylor Worman. In the final, the Manci's got matching 6-3 set wins to bring home the title.
"They are just so steady," said Morrison. "Often times in practice we count how many times can you hit back and forth without missing. They usually will win that. They've been in the 100s before. That's how their points (in a game) are. They'll go back and forth."
Brianna Beougher brought home the third crown for the NetDogs in third singles. After beating Wapak's Ashley Beach 6-2 and 6-3 in the semis, Beougher posted a straight sets 6-1 and 6-1 win over Shawnee's Amanda Lawson to take the title.
St. Marys was led by Megan Dominik, who advanced to the first singles title match by beating Jessie Adkins of Elida 6-4, 3-6, 7-5 to face defending champion Vidhi Madan of Shawnee. Madan made quick work of Dominik, winning 6-0 and 6-0.
The Roughrider team of Lydia Krugh and Haylee Kill, finished third in first doubles, losing to Wellons and Nelson 4-6 and 3-6 before beating Bulusu and Maté 6-4, 3-6, 6-2 in the consolation.
In second singles, Mariah Krugh of St. Marys finished fourth in the tournament, losing to Makenzie Klock of Wapakoneta 2-6 and 1-6 before falling to Muriel Smith of Bath 1-6 and 2-6 in the consolation. Shawnee's Lauren Rovner captured the bracket title with a 6-4, 6-1 win over Klock.
Both Celina and St. Marys will be back at UNOH this week for the Division II sectional tournament.