Wednesday, November 11th, 2009
POW relives war memories, horror
By Shelley Grieshop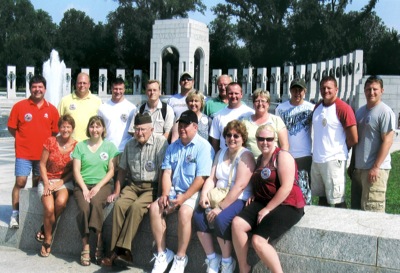 ST. HENRY - Andy Hemmelgarn carefully opens the fragile letter he sent his family more than 64 years ago.
"Dear Mom, Dad and all, How's everyone that way? Hope OK as I am," the first sentence reads.
It's a simple letter, one that could have been written by a young man away at college. But Hemmelgarn, 88, of St. Henry, wasn't a student back then. He was a U.S. Army soldier held prisoner by Adolph Hitler's troops during World War II.
It was March 11, 1945, when Hemmelgarn jotted his thoughts onto the German stationary. He was in his third month of captivity and had no idea when his ordeal would end. A Mercer County farm boy, he thought often about his family back home and imagined the relief they might find in a letter from their son.
He didn't dare burden them with his fears.
"There isn't much to write about, but everything's going along alright," he penned.
As he sits at the kitchen table in his home along U.S. 127, the decades-old letter awakens many memories. At times he bows his head, his voice goes quiet and tears fill his eyes. He pauses to regain composure.
Hemmelgarn's service to his country began Nov. 30, 1942, when he said good-bye to his parents, Leo and Theresia Hemmelgarn, and six siblings. Eventually, he boarded the former Queen Elizabeth for a rocky journey to England, arriving June 6, 1944 - D-Day.
"Our division was dissolved and we were sent to other units to replace soldiers lost in action," he recalls.
Later he was assigned to the 18th Reconnaissance Group, which was attached to the 9th Army in Belgium. The men - most drafted into the war like Hemmelgarn - advanced to the small town of Roth inside the Germany border. As a reconnaissance unit, their job was to locate and observe the enemy and identify its strength.
Due to a rapid advance through France, the American troops were forced to stop, regroup and replenish supplies. On Dec. 16, 1944 - the start of the Battle of the Bulge - the enemy got the upper hand.
"It was 6 a.m. and we heard tanks rumbling," Hemmelgarn remembers.
A heavy fog made it impossible for the Air Force to slow the approaching enemy. The Germans first bypassed the American soldiers before trailing back. At one point, Hemmelgarn narrowly escaped a bullet in the fiery exchange. Others nearby weren't so fortunate, he recalls.
After a full day of fighting, he and more than 50 other soldiers found themselves surrounded.
"The first thing that hits you is you're going to be missing in action," he says in a soft, emotion-filled voice.
Among Hemmelgarn's collection of war memorabilia is a Western Union telegram dated Dec. 22, 1944. It's a note from army officials to his parents: their son's whereabouts are unknown.
During his first night of captivity, Hemmelgarn huddled with fellow comrades in an abandoned building. They marched by day and collapsed into boxcars at night. It was cold and many soldiers, including Hemmelgarn, suffered frostbite that would plague them for years to come.
Food rations were a bowl of thin, rutabaga soup and a slice of coarse bread. During one journey, there was no food and POWs were given "grass soup" made with chopped hay.
"Luckily, one time we received American Red Cross packages. We had to share them, but it was enough to keep us from starving," adds the now retired St. Henry village postmaster.
Hemmelgarn's unit eventually arrived at "Stalag 13," a POW camp about 3 miles from Nuremberg. During the day the prisoners were marched into the city to seal large, bombed-out homes. At night, they stayed in a barracks with one small, wood-burning stove.
"There were outside toilets and a hand pump for water to wash and shave," he says. "We had no change of clothes. We were there about three months."
The American soldiers next were marched to Stat Laurgen and housed in the town hall. Daily they would help area farmers with chores and often received one meal per day.
"Their food supply was limited, but it was better than what we were used to," says Hemmelgarn, who lost 50 pounds while being held captive.
As U.S. troops advanced further into the country, the Germans abandoned their prisoners after nearly five months. For three days, the American soldiers slept in barns and scrounged for food until they were rescued.
"Liberation was a good feeling," Hemmelgarn says.
After receiving medical treatment, he arrived home on June 1, 1945. Twenty-nine days later he was wed. He and his wife, Peg, who died eight years ago, raised five children. Hemmelgarn enjoys his legacy: 16 grandchildren and 18 great-grandchildren.
He officially was discharged from the Army on Nov. 30, 1945 - exactly three years after entering. Until recently, he spoke very little about his tour of duty.
"You like to get it behind you," he explains.
Although his time in Germany was difficult and full of tragedy, Hemmelgarn never gave up.
"I feel fortunate, but I really never doubted I would come back alive. I guess I had faith," he says.