Friday, November 13th, 2009
Pupils ponder pollination problem
By Shelley Grieshop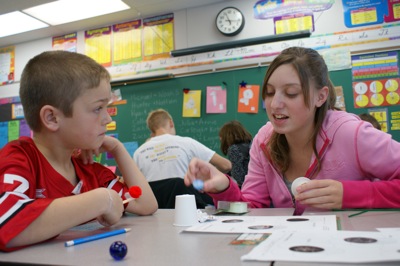 ST. HENRY - A group of third-graders were truly busy bees on Thursday as they tried to create a handheld device to efficiently pollinate plants.
The engineering-based project was part of the school's Science, Technology, Engineering and Mathematics (STEM) program. High school students from 10 area school districts participated in the agricultural engineering session held in third-grade teacher Diana Kremer's classroom.
"First we'll be discussing what we think will work best and why," Kremer told her young students, who were matched in groups with their mentors.
After a few minutes, the students began the hands-on work of selecting items such as baking soda (pretend pollen), marbles, pompoms, tape, aluminum foil, erasers and pipe cleaners for use in testing. The goal was to find the right combination of tools to deposit the most pollen inside a plant, or in this instance, an upside down paper cup.
"What worked best for most of you?" Kremer asked after the first round of tests.
The pompoms received rave reviews, according to the students. Pipe cleaners also were a hit "because when folded, they have a bigger surface," one student commented.
Next, the students were instructed to design specific devices that would pollinate four different types of flowers. Each flower - a poppy, a Dutchman's pipe, a Jack-in-the-pulpit and a bucket orchid - presented a unique pollination problem due to its structure.
"Some of the tools you have won't fit," she told the students.
Kremer told her audience the tools used must be manipulated to drop off the most amount of pollen without waste.
"Imagine what your pollinator must look like and then plan," she added.
Kremer reminded the students that initial design predictions don't always find success.
"That's why scientists perform lots of tests," she said, adding it would be too costly to manufacture equipment that might fail.
Greg Schumm, director of community relations at Wright State University-Lake Campus in Celina, also was present for Thursday's project. Schumm works with the high school students - along with 30 others in the region - who were chosen this summer to participate in the three-week Dayton Regional Summer STEM Academy.
This is the second year for the summer program and the first year it was opened up to students in the local area, Schumm said. The students will participate in several projects this year to fulfill their obligation to the academy, Schumm added.
Schumm said he's proud that one-third of the students in the program are from the Mercer-Auglaize county area. The 10 area high school students include Aaron Freeman and Emily Topp of New Bremen; Adam Lennartz and Mitchell Schulze of St. Henry; Lindsay Moorman and Abby Schmitmeyer of Marion Local; Jacob Rindler of Fort Recovery; Katelyn Severt of Coldwater; Priya Sivagnanam of St. Marys; and Jordan Murphy of Lima Bath.
Schumm and Kremer also gave kudos to the older students for coming to the school on Thursday despite the fact most of their home districts were closed for the day due to fog.