Friday, November 13th, 2009
Two Celina teenagers injured in four-wheeler accident
By Margie Wuebker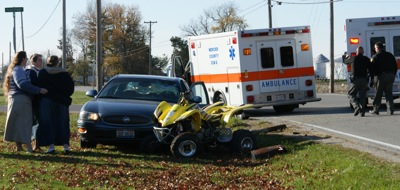 Two area youths were injured Thursday afternoon when their four-wheeler was struck by a car near the intersection of Mud Pike and Fleetfoot Road west of Celina.
Brian Johnsman, 15, 4809 Mud Pike, Celina, reportedly traveled through a farm field and onto Fleetfoot Road. He then attempted to cross Mud Pike but failed to see an eastbound 2002 Buick driven by Joyce Howell, 62, 7015 Gause Road, Celina.
Passenger Cody Heyne, 14, 4201 Monroe Road, Celina, was ejected on impact and struck the windshield of the Howell car. Neither he nor the driver were wearing protective helmets at the time, according to Mercer County Sheriff's Office reports.
Both boys were taken by ambulances to Mercer County Community Hospital in Coldwater. The sheriff's office reported Heyne later went by emergency helicopter to Children's Medical Center in Dayton for treatment of serious injuries. However, a hospital spokeswoman indicated this morning they have no information about him.
A Community Hospital nursing supervisor reported Johnsman's name does not appear on today's inpatient census. Additional information was not available due to federal patient privacy regulations.
Deputies were assisted at the scene of the 2:36 p.m. accident by Celina Fire Department, Mercer County Emergency Response Volunteers and the Celina Water Department.
The crash remains under investigation.