Tuesday, December 1st, 2009
By William Kincaid
Celina Main Street water line replacement begins
First step in reconstruction project underway; street will remain open during work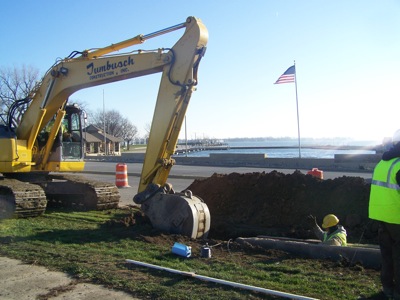 Tumbusch Construction of St. Henry has begun replacing water lines along Celina's Main Street - the first step of the Main Street reconstruction project.
The contractor, which submitted the low bid of $515,035, is replacing the line from the city's water plant along U.S. 127 to Wayne Street. Work should be done around April 1.
"Traffic will be able to get through the north and south," Celina Planning and Community Development Director Kent Bryan said, adding no city blocks should be closed during the project.
A new 12-inch line will be installed on the west side of Main Street, with the current 10-inch line on the east side eventually being unused. The larger line will allow for increased water pressure and volume and better water flow, Bryan said.
The new line will include several 1-inch service lines to be connected to buildings, making it unnecessary for the city to actually enter the properties, he said.
Granular stone will be placed over the line to allow for continued downtown parking until the street reconstruction project. Bryan said the city will try to avoid obstructing retail parking during the busy Christmas season.
In June, the Ohio Department of Transportation plans to bid out the remaining portion of the Main Street reconstruction project, which includes rebuilding the street and installing new curbs and sidewalks from Lake Shore Drive to Fulton Street, as well as installing decorative street lighting and new traffic lights.
According to Bryan, ODOT will complete the project in two phases. Three blocks are scheduled to be worked on in late summer and fall of 2010 with the remaining three blocks to be worked on in the spring of 2011.
The project is estimated at $3.54 million, up from its original estimate of $3.13 million.
Additional online stories for this date
Print and E-Edition only stories for this date
• Celina native killed at his home in Arizona
• Marion Local school board OKs land purchase
• Board OKs purchase of equipment sterilizer
• Teen missing since Sunday
• Stress is topic at Dine & Discover program
• Inexperience will be a concern for Bulldogs
• Celina will rely on its experienced seniors
• Late start nothing new for Kanney, Cavs
• Fisher likes the experience coming back
• Indians are looking to build around Kahlig
• Depth should be an asset for Fort Recovery
• A lot of question marks for Marion Local
• Fortkamp returns veteran roster with Flyers
• Pair of juniors will lead the way for Minster
• Wildcats want to play quicker on offense
• New Bremen looks like contenders in MAC
• Cardinals need their youth to learn quickly
• Fledderjohann takes over for the Rangers
• Depth will be a concern for New Knoxville
• Graduation left Parkway short on scoring
• Panthers continue to strive for improvement
• Rosenbeck can rely on experience at St. Henry
• Experience will be an asset for Redskins
• Hegemier trying to rebuild at St. Marys
• Fulmer inherits experience at St. Marys
• Bulldogs aiming for another strong season
• Cavs looking for successful year in pool
• Schulze excited to lead the way for Flyers
• Wildcats have sights set on improvement
• Veterans must lead the way for New Bremen
• Menchhofer has small group to work with
• Celina has a small but experienced squad
• Experienced veterans to help Cav grapplers
• Roughriders are young and mostly untested



Photo Albums
Thursday, March 23

Wednesday, March 22

Saturday, March 18

Wednesday, March 15


Online Video
Saturday, February 4