Thursday, December 10th, 2009
Celina stunned Roth on memorable 1981 night
One More Curtain Call
By Robb Hemmelgarn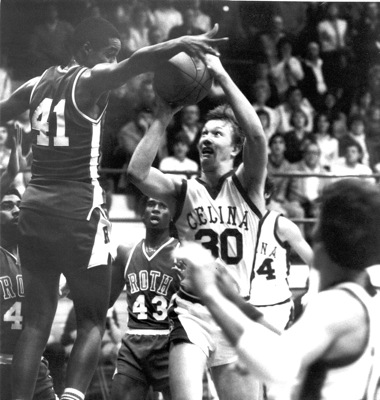 Nestled in a historical archive in downtown Dayton, sits a banner from the 1980-81 basketball season signifying the Dayton Roth Falcons as the Class AAA boys basketball state champions.
With only one loss that year, Roth floored one of the most talented basketball teams to ever win a state title, as their roster was dotted with nearly a dozen future college basketball players, as well as future Ohio State Buckeye and National Football League player, Keith Byars.
With skill, height, speed and strength oozing from the top to the bottom of their lineup, many wonder how this team ever had a close game that winter, let alone tasted a defeat.
The answer lies in the Celina Fieldhouse on Jan. 17, 1981, where coach Van Gregg's Celina Bulldogs pulled off one of the biggest upsets in their program's 75-year history.
"Outside of our locker room, there weren't many people who felt we stood much of a chance in that game," admitted former Bulldogs guard Mike Hoyng. "Although the gym was completely packed for that game, I would say the majority of the crowd was there more so to watch the fourth-ranked team in the state play and see if they were as good as advertised."
Comparable with David against Goliath or Milan High versus Muncie Central, few, if anyone in Mercer County, felt the 5-7 Bulldogs stood a chance.
Facing Roth's aggressive and trapping defense, Celina weathered the storm and held advantages of 14-13 and 27-26 at the end of the first and second periods, respectively. The Falcons grew frustrated with the Bulldogs controlling the pace of the game, but managed to pull in front 48-46 at the end of the third quarter.
In the final stanza, neither team held more than a four point lead, and with the score tied at 69, Roth's potential game-winning shot at the buzzer stopped short, forcing the game into overtime.
"I remember that they played a very aggressive man-to-man defense and we were able to create opportunities with dribble penetration," recalled Celina starter Jim Klosterman. "We were also able to break their press and force them into a lot of fouling situations and fortunately we were able to take advantage of it. We also took a lot of charges in that game, which was something we always prided ourselves on and against a team like Roth that liked to run up and down the floor, it really took them out of their game."
The Falcons rocketed out with the first four points of the extra session, and just then Hoyng was whistled for a foul, seemingly deflating the Bulldogs' valiant upset bid. As all hope seemed to slither away, Roth's Ike Thornton missed the front end of a one-and-one opportunity, and with less than a minute to play, Hoyng nailed a jumper to pull his squad to within two points.
Thornton then misfired on another charity toss, and the next time down the floor, Celina's Jim Baucher snatched an offensive rebound and his stick-back knotted the game at 73-points apiece.
Roth took possession and anticipated another game-winning opportunity, but a turnover with five seconds to play set the table for the climactic ending. The Bulldogs sliced through the Roth press, and Hoyng quickly released the ball toward the basket as the Fieldhouse grew silent. When the shot cleared the net with two seconds remaining, the scoreboard reflected the unthinkable - Celina 75, Dayton Roth 73. Roth's final desperation shot was off the mark, giving the 10-0 Falcons their first loss of the season.
David Lawrence, a Roth freshman that season and current high school principal at Thurgood Marshall High School in Dayton, recalls the battle with a bittersweet recollection.
"Check out the number of free throws Celina shot in that game, and you will see what we were up against," he chuckled. "Seriously, that game was one that I and several others still talk about. We had so much talent those two years and although we won state championships, that game at Celina was definitely one that we will never forget."
Roth's Thornton also remembers the game vividly. "That was an atmosphere that I will never forget, and it was a very difficult place to play," he commented. "I remember them shooting many more free throws, but honestly, we missed some very important ones of our own which would have won us the game. Mike Hoyng scored 41 points - that was the most points one player ever scored on us and we played against some of the best in Ohio."
Hoyng's winning shot gave him 41 points in the battle, setting the school's single game scoring mark for the second time that season - a record which still stands to this day. Klosterman chipped in a career-high 17 points in the victory while the Bulldogs improved to 6-7 on the year. As the rest of the season unfolded with several peaks and valleys for the Bulldogs, they finished with an 8-14 overall record - their first losing campaign since the Lyndon Johnson administration - and a dismal 3-6 mark in the Western Buckeye League.
As history indicates, the Falcons shook off their defeat to Celina and progressively flourished.
"My dad and I went to Dayton to watch Roth defeat Hamilton in the regional final later that year," Hoyng recalled. "As we were leaving the arena, fans kept wondering how Roth ever lost a game that season and asking amongst themselves who they lost to. My dad and I just sort of looked at each other and smiled."