Saturday, December 12th, 2009
St. Henry dominates second half
By Gary R. Rasberry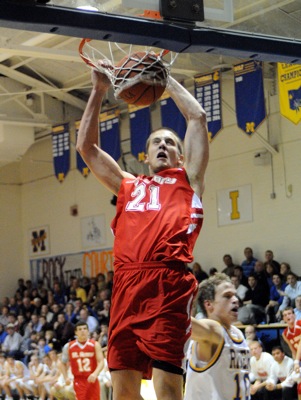 ST. MARYS - Things seemed to be going right for St. Marys after one half of play against St. Henry.
The Roughriders forced the Redskins into 15 first-half turnovers and had a slim 24-23 lead at the break.
Then the second half began.
St. Henry started the second half on an 11-0 run and held St. Marys to 10 total second-half points as the Redskins went to 2-0 on the season with a 56-34 win in Grand Lake area action in the final home opener at McBroom Gymnasium. The Roughriders drop to 0-2.
The game started as a back-and-forth battle. St. Marys spotted St. Henry the first six points before scoring the next seven to take its first lead. Then for the remainder of the first half, the teams traded the lead on almost every score. The Roughriders had a 24-20 lead with a minute left in the game, but St. Henry's Neil Schwieterman cut it to 24-23 with a long trey.
"We were trying to get the ball up and down," said St. Henry coach Eric Rosenbeck. "Unfortunately, we went a little too fast and led to 14 first-half turnovers by our count. That's obviously unacceptable. That was the big difference in keeping the game a little closer than we wanted at the end of the half."
"Defensive pressure was good," said Roughriders coach Dan Hegemier. "I thought we kind of wore ourselves out a little bit."
Schwieterman's shot sparked the Redskins as the second half began. Victor Fortkamp got a stickback a minute into the quarter to put the Redskins up for good at 25-24. St. Marys, meanwhile, had trouble putting the ball into the bucket, if not turning it over to the Redskins. Fortkamp added five more points during the run, capping his scoring off with a slam dunk that made it 33-24 with 3:38 left in the third.
St. Marys did not score its first points in the second half until the 2:24 mark of the third quarter when freshman guard Garrett Fledderjohann hit a three-pointer to cut St. Henry's lead to 34-27.
That was all the closer St. Marys would get, as Brad Stahl followed Fledderjohann's trey with a three of his own to make it 37-27.
"St. Marys kids play so hard, and we were hoping with our depth that we'd be able to wear them down a little bit," said Rosenbeck. "I think that might have happened, but you can't give enough credit to (St. Marys) for how hard they played, how well they played."
"We just could not handle their pressure," said Hegemier. "We failed to come down and run halfcourt (offense), get 4-5 passes, which we talked about. We allowed the momentum of the game to speed up. We didn't use enough composure.
"Therefore, we get our butt kicked by a good team that plays hard. So we have to learn from that, get on the practice floor and see what we can get done," added Hegemier.
After shooting 38 percent (10-of-26) in the first half, the Redskins were 14-of-27 from the field (51.9 percent) in the second half. In contrast, St. Marys shot 42 percent (10-of-22) in the first half, but made just four shots out of 22 tries in the final 16 minutes, a clip of 18.2 percent.
Fortkamp pulled down a double-double for the second straight game, scoring 19 points on 9-of-12 shooting to go with 13 rebounds, six on the offensive boards.
Craig Knapke came off the bench to add nine points with Cory Siefring adding seven.
Fledderjohann and Paul Pfenning each scored eight points to pace the Roughriders while Derek Roop added seven.
St. Henry is back home tonight, facing traditional rival Fort Loramie in a battle of Redskins. St. Marys opens Western Buckeye League play next Friday with a trip to the Elida Fieldhouse to face the unbeaten Bulldogs.