Wednesday, December 16th, 2009
Coldwater picks up first victory
By Ryan Hines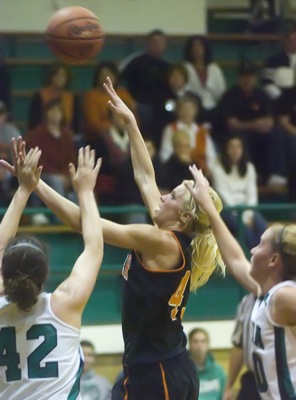 The Coldwater girls basketball team started the season with three straight losses, due mainly to an inability to finish games strong.
That changed on Tuesday night as Coldwater invaded the Fieldhouse and handed rival Celina its first loss of the season, a 49-42 triumph over the Bulldogs.
Coldwater (1-3) head coach Nick Fisher was happy to see his team finally play four full quarters of basketball.
"The monkey is off our backs now," said Fisher, about his team getting the first win of the season. "This was a huge win for us with the brutal schedule that we play. We've played St. John's, Bath and Kalida tough, but only for three quarters. I thought that tonight we played four quarters of basketball and that should do nothing but give us confidence."
Celina struggled all night against Coldwater's aggressive style of play.
"I have to give Coldwater credit, their physical play took us out of our game," said Celina head coach Brian Stetler. "The were very aggressive and we knew that coming in and we didn't respond well to what they were doing to us."
The Bulldogs started quickly behind the play of Candra Francis as the senior guard scored eight early points to push Celina ahead 11-8.
However, Coldwater responded by outscoring Celina 14-4 over the final four minutes of the opening quarter for a 22-15 lead. Kara Uhlenhake scored eight points and five different Cavaliers scored to pace Coldwater in the first quarter.
Celina never got closer than three points the rest of the game as Coldwater's aggressive style of play was the difference.
Both teams were sloppy with the ball, committing 25 turnovers each, but Coldwater dominated the glass by outrebounding Celina 37-28 with 14 offensive rebounds.
"I thought our rebounding was good tonight and that was nice to see because we have been stressing it in practice," said Fisher. "The kids hung tough and battled on the boards. That was big for us in this game."
"Rebounding is an emphasis for us every game and I thought the rebounding was the difference in the game tonight," said Stetler. "We just weren't hungry enough. They were more physical and aggressive."
Uhlenhake led the charge for Coldwater on the glass with a game-high 15 rebounds (six offensive) to go with a team-best 11 points. Rachel Geier added 10 points and five rebounded for the Cavaliers.
Celina was led by Cenzie Yoder's double-double of 15 points and 14 rebounds while Francis added 14 points. Katelyn Moorman was the only other Bulldog to score more than two points, netting six points, including Celina's only three-pointer of the game on 13 attempts.
"I thought that we had opportunities, but we didn't capitalize on those opportunities," said Stetler. "We didn't shoot the ball well from the outside, even when we had good looks at the basket. We had way too many empty offensive possessions and you can't have that."
Celina will wrap up its six-game homestand to open the season on Thursday when Defiance pays a visit for a Western Buckeye League affair. Coldwater is also back in action again on Thursday traveling to New Bremen for a Midwest Athletic Conference contest.