Saturday, January 16th, 2010
Bulldogs blow out their rivals
By Ryan Hines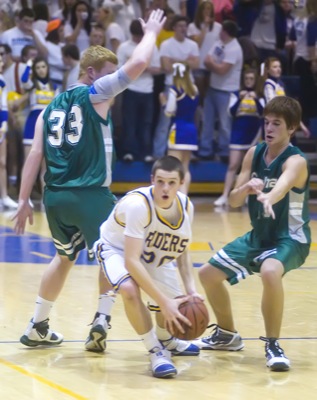 ST. MARYS - Dan Hegemier got his first taste of the Battle of Grand Lake on Friday night at McBroom Gymnasium when his St. Marys Roughriders hosted rival Celina, and it was not a game that the veteran coach will remember favorably.
St. Marys had no answer for Celina's pressure defense and the Bulldogs thoroughly dominated the Roughriders in a 62-27 blowout in Western Buckeye League action.
It's the fourth win in a row for Celina (7-3, 2-1 WBL) while St. Marys slips to 3-7 overall and 0-3 in the league play.
St. Marys has struggled offensively all season long, averaging under 39 points per game, and Celina gave the Roughriders fits from the opening tip to the final horn.
Celina controlled the game with an aggressive display of defense as the Bulldogs forced 19 turnovers and held St. Marys to just 21 percent shooting from the field (7-of-34 overall and 0-of-6 from three-point range).
"They played pressure defense and anticipated passes very well. They read our eyes and we were hesitant," said Hegemier. "We had a really good week of practice and I didn't think that this would happen, but their kids worked really hard and had confidence in themselves with what they were doing. They put us in a big hole that we just couldn't dig out of. We never got comfortable running any halfcourt offense. This was a disappointing performance and I don't know what else to say."
"I think that our defense got them to play faster than they wanted to play," said Celina head coach Chris Bihn. "I thought that, even when they had an open look at the basket, that they were rushing it. I don't think that they had too many shots when their feet were set... I credit that to our defense."
St. Marys was within six points at 13-7 early in the second quarter, but Celina went on a 15-2 run over the next four minutes of action to take a commanding 28-9 lead. Six different Bulldogs scored during the spurt.
"We wanted to get out to a quick start tonight and we were able to do that because of the way that we played defense," said Bihn. "We wanted to get up early on them and see if we could make them to stop wanting to play."
The Bulldogs took a 19-point lead into halftime and things only got worse for the Roughriders in the second half.
Celina outscored St. Marys 17-4 in the third quarter as the Bulldogs' held a 51-19 lead going into the final quarter. Scott Moeder hit a pair of three-pointers to start the second half and Greg Riemesch contributed seven points in the third quarter.
The Celina lead grew to as much as 41 points in the fourth quarter and both team's emptied their benches as the fans on each side began to exchange verbal jabs at each other as is the tradition between the two bitter rivals.
It was a balanced scoring attack for the Bulldogs, who shot 59 percent in the game, as all 12 players that entered the game scored at least two points. Riemesch led Celina with 11 points and eight rebounds while Moeder and Darin Waterman each scored nine points.
"We had 12 guys score for us tonight and we got a lot of guys to play a lot of minutes and they all did a good job, for the most part, with executing the offense. We got solid contributions from a lot of different people and that was nice to see," said Bihn.
Derek Roop was the lone player for St. Marys to reach double figures, scoring 11 points, and no other Roughrider scored more than four points.
Celina returns to action tonight with a road contest against Toledo Rogers while St. Marys will welcome Lima Perry to McBroom Gymnasium tonight.