Saturday, January 23rd, 2010
New Bremen rallies with defense in second half
By Gary R. Rasberry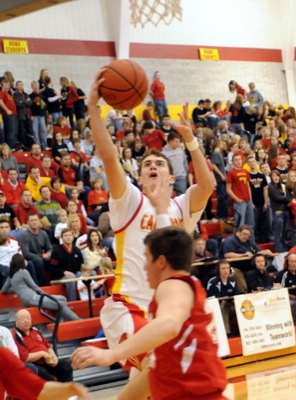 NEW BREMEN - New Bremen grabbed the momentum from St. Henry at the end of the third quarter and poured it on in the fourth quarter to hand the Redskins their third straight conference loss in a 62-53 Cardinals win at Cardinal Gymnasium on Friday night.
The win moves the Cardinals, who snapped a two-game losing streak to the Redskins, to 8-2 on the season and 3-1 in Midwest Athletic Conference play. St. Henry suffers its fourth loss in five games to fall to 7-4 overall and 1-3 in the MAC.
St. Henry was able to work all aspects of its game in the first half, getting as much as a seven-point lead midway through the second quarter at 26-19, but New Bremen went on a 6-2 run to end the quarter to cut the Redskins' lead to 28-25 at the break.
"First half, we beat them to spots," said St. Henry coach Eric Rosenbeck. "Everyone saw the 25 points with the great defensive effort we had."
Things changed in the second half as the Cardinals made some adjustments to slow down the Redskins. The result was St. Henry, which had shot 50 percent from the field in the first half, going just 2-of-13 from the field in the third quarter.
That allowed New Bremen to snip away at the deficit and finally tied things up at 37-all on a Spencer Rohr bucket. St. Henry's Jordan Post, making his season debut after missing the first half of the season recovering from knee injuries from football, hit a pair of free throws to make it 39-37, but New Bremen's Clay Heitkamp made a basket with 21 seconds left to send the game into the fourth quarter tied at 39-all.
"The second half, I thought we played defense pretty well," said New Bremen coach Mike Ernst. "The first half we struggled a lot. We gave up way too much dribble penetration. I think we were trying to put too much pressure on them."
The Cardinals took the lead right away in the fourth on a Rohr bucket, but St. Henry forced a tie at 43-all after a Cory Siefring bucket. Justin Eilerman hit one free throw to put New Bremen up 44-43 with 5:33 to go before Rohr got a hoop-and-harm three-pointer to give the Cardinals a 47-43 lead, their biggest to that point.
Eilerman then made pair of buckets to make it 51-43, forcing Rosenbeck to call his final timeout with 3:23 left to play.
"We changed defenses a little in the second half and I thought that helped us some," said Ernst. "I thought we played a little better in the second half. First half we couldn't quite get over the hump and second half, we came out a little more aggressive on both ends of the floor, especially on defense."
St. Henry's Vic Fortkamp scored to break the Cardinal streak, but picked up his fourth personal foul shortly thereafter as Eilerman drove and got the bucket to fall to make it a nine-point game. Post hit an NBA-distance trey to get St. Henry back within five, but the Cardinals worked it from the foul line the rest of the way. New Bremen, which entered the game shooting 57 percent from the foul line, was 8-of-13 (61.5 percent) from the stripe in the final 2 1/2 minutes to keep St. Henry at bay.
"That's something this team has to work harder at than any team I have coached," said Ernst of the foul line work. "That's a credit to these guys, because they really do work at it."
"We had 19 turnovers, which was way too many - yet again," said Rosenbeck. "... Defensive side of the ball, we need to get into a defensive stance and make sure to stop the guy in front of us instead of letting the best players on the other team go for a combined (34) points."
Eilerman and Rohr each scored 17 to pace the Cardinals while Andy Timmerman added 12 points.
Fortkamp finished with 15 points and eight rebounds while Post scored 10 in his return.
New Bremen heads east on state Route 274 to face a Jackson Center team that had a 4-2 lead on Anna at halftime before the Rockets won 22-18. St. Henry will look to right things at home tonight against nearby Ansonia.