Friday, January 29th, 2010
Teacher named tops by Ohio VFW
Marion Local's Patrick Minnich tapped for honor
By Margie Wuebker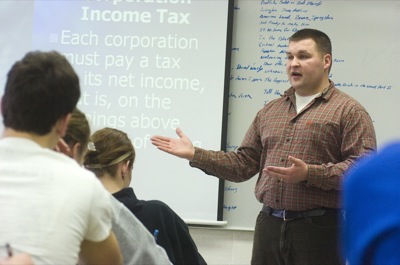 MARIA STEIN - Marion Local High School teacher Patrick Minnich has lots of heroes but they are not the ones who throw game-winning touchdowns, hit the most home runs in a season, star in blockbuster movies or record chart-topping songs.
His role models leave family and friends in order to protect America's interests here at home or in foreign lands. They put their lives on the line so that others might escape tyranny and enjoy the freedom that some folks on the homefront take for granted.
Perhaps that is why the honor those heroes accorded him last weekend still brings a lump to his throat and tears to his eyes.
The government teacher was recognized last weekend as the Ohio Veterans of Foreign Wars' high school teacher of the year. Minnich, who also teaches psychology, sociology, current events and economics, remains in the running for the national title along with elementary and junior high honorees.
"This was truly one of the great moments in my life and yet it was a very humbling experience," he says quietly. "There is something about being honored by the men and women I consider heroes. They give so much and ask so little in return."
The Minster-area resident strives to instill patriotism in his students. Signs on his classroom door leave no doubt about his philosophy with bold letters proclaiming the national and state mottos - "In God we trust" and "With God all things are possible."
Minnich has worked closely with the Chickasaw VFW post and auxiliary on their annual Voice of Democracy (VOD) contest since coming to Marion Local in 2002. His students are required to participate beginning with a 1,000-word essay on a required prompt or theme such as "Does America still have heroes?"
"I present the assignment and remind students how much veterans have done for us without asking anything in return," he says. "They offer no complaints at the point."
The 29-year-old teacher worked with post chairmen Bernard and Lucille Droesch the first six years. Droesch, a World War II veteran, impressed Minnich to the point he joined the U.S. Army Reserves in April 2008. He completed basic and advanced training that summer and fall while on leave from the classroom.
As assistant chaplain with the Columbus-based transportation unit, he wants to become an officer before the battalion deploys to Afghanistan in April 2011.
Education was not Minnich's first career choice when he enrolled at the University of Dayton. He intended to major in law but the classes were full and his schedule was altered to include education offerings. Not only did he acquire a love for teaching but he ultimately met his wife Ashley in the education department. She teaches Spanish at Marion Local and they have three sons - Michael, Ashton and Xavier - ranging in age from 6 to 6 months.
"I treasure every moment I spend with my family as well as my students," he says. "With Afghanistan on the horizon, I don't waste precious time on trivial things."
High school principal Mike Pohlman lauds Minnich's efforts calling him a patriotic teacher who instills the same virtue in his students.
"Every day is an adventure and students leave Mr. Minnich's class gaining new insight and understanding about our history and current society," Pohlman says.
The teacher is quick to point out that not everyone is suited for the military. However, he encourages students to consider other options when it comes to service, citing the words President John F. Kennedy spoke during his inaugural address - "Ask not what your country can do for you, ask what you can do for your country."
His other exhortation includes the words of legendary football coach Lou Holtz - "Life is 10 percent what happens to you and 90 percent of how you react." He reacted to the award presentation with an impromptu speech from the heart.
"I feel like I have won my own personal state championship," he says. "And best of all it came from my heroes."