Friday, January 29th, 2010
Celina knocked from top of WBL standings
By Ryan Hines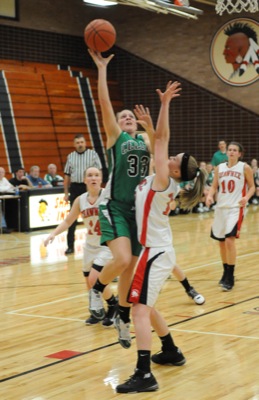 LIMA - The four-way tie in the Western Buckeye League girls basketball standings was trimmed to two after Thursday's action around the league.
Shawnee used its overall quickness advantage to retain a share of the lead in the WBL standings with an 80-58 win over Celina at Lappin Gymnasium.
The Indians currently share the top spot in the WBL standings with Bath (10-6, 5-1 WBL) while Celina (9-5, 4-2 WBL), Wapakoneta (9-6, 4-2 WBL), Ottawa-Glandorf (8-6, 4-2 WBL) and St. Marys (7-7, 4-2 WBL) stand one game back of the league leaders.
Celina had no answers for Shawnee's quickness advantage as the Bulldogs' defense allowed a season-high 80 points, with the previous worst being 59 points in a double-overtime loss to Findlay.
Shawnee started the game with its fullcourt pressure defense and the Bulldogs turned the ball over 10 times in the opening quarter as the Indians race out to a 21-11 advantage.
"That's their game," said Celina head coach Brian Stetler about Shawnee's pressure defense. "They use their quickness to their advantage and it's tough to simulate something like that in practice."
Celina began to handle Shawnee's pressure better in the second quarter and went into halftime down just three points at 31-28. Cenzie Yoder and Abbey Welker helped to pull the Bulldogs within striking distance at halftime with a combined 17 points through two quarters of play.
The defensive-minded Bulldogs were torched in the second half of play as Shawnee outscored Celina 49-30 in the final two quarters.
Shawnee led just 40-37 with two minutes left in the third quarter but the Indians outscored Celina 13-5 during that time span to take a 53-42 lead going into the fourth quarter. The Shawnee lead got to as high as 24 points in the fourth quarter.
"We fought back in the second quarter, but then I don't know what happened in the second half.... I'll have to look at the film and see where things went haywire for us," said Stetler. "I think that we got caught up playing their style and their quickness was the difference. In the second half things just got away from us."
Shawnee was able to penetrate past Celina defenders all night long and also used the quickness in rebounding as the Indians corralled 20 offensive rebounds in the game, 11 of which went back up for stick-back buckets.
"I think that our girls played really hard tonight from the tip till the end," said Heistan. "We were able to use our quickness to penetrate and when they would collapse on us, then we would find the open person for a three-pointer."
The Indians also had four players reach double figures. Samantha Robison hit four three-pointers and led the way for Shawnee with 20 points while Samantha Dervisevic scored 17 points, Hailey Griffo netted 15 points and Kieona Foster added 12 points.
"They like to run on offense, but they have a solid group of scorers to go to that can hurt you in a lot of ways, either on the drive or on the perimeter," said Stetler. "They are a good team."
Yoder led Celina with 20 points and a game-high 11 rebounds while Katelyn Moorman and Welker added 12 points apiece.